Top 20 companies in 2019 that have mastered the art of reinventing themselves
What are the Top 20 global companies leading the charge when it comes to transformational strategic change?
Change is difficult and for many companies, even though they know that they need to change, because they have stopped growing, are facing radical disruption from a new competitor or can't get rid of the old thinking that is soaked into the fabric of their being - the task of reinventing themselves just seems too difficult to even attempt; so they ignore it...and hope for the best.
But ignore the need for change at your peril - worse yet - go through the process of change, but in the wrong direction because you made ill-informed decisions.
So to understand how the successful companies managed to pivot themselves for new growth and opportunity, I took some time to study a report that identified the Top 20 global companies leading the charge when it comes to transformational strategic change, and synthesis some of the key learnings for you here.
The team that compiled the report screened companies in the S&P 500 and the Global 2000 and picked out those that had:
Unlocked new growth - thanks to new products, new markets, new business models.
Repositioned the old business - to innovate and respond successfully to changes in the contextual environment.
Improved their financial sustainability - so those companies that basically turned around a financial entity that was frankly hitting the top of its growth curve.
The 2019 Top 20 masters of reinventing themselves are: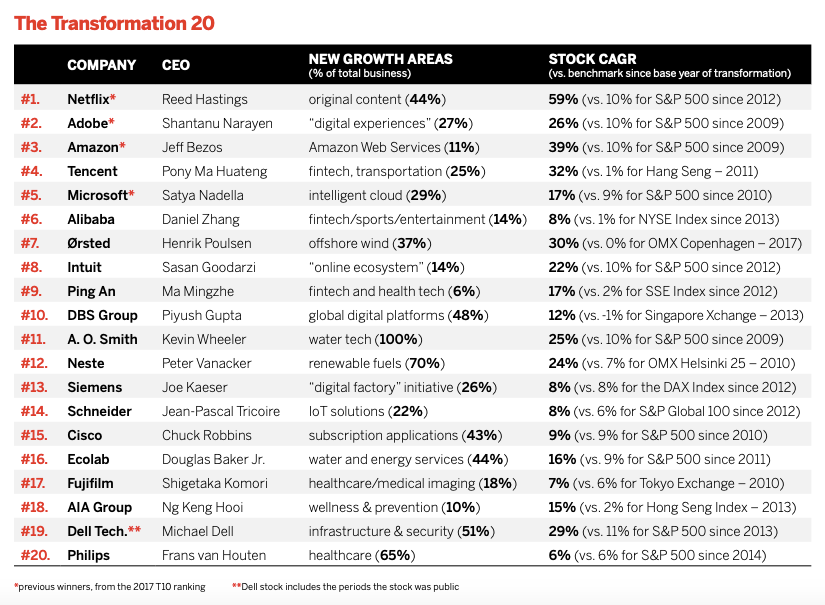 How did these companies transform themselves and unlock new avenues of growth?
Overwhelmingly, the biggest theme for growth, especially in core markets, is diving deeply into digital waters by harnessing new business models for the cloud, the Internet of Things, artificial intelligence and other technologies. Among the 20 companies on the list, half of the firms are transforming by creating new kinds of digital experiences or services that are driving new value for customers. - via
Another area of growth that was identified was in products and services that address the growing demand for the combating of climate change.
'Four of the firms—Ørsted, Ecolab, Neste, and A.O. Smith—transformed by creating new growth through clean-tech business models in renewable energy or water services.'
So how did these companies achieve this remarkable turnaround? What behaviours did they adopt to ensure that they were able to 'jump the curve' - so to speak?
#1: They transformed their understanding / definition of their higher purpose
Most companies write total nonsense when they define their mission and vision statements. As a classic example, just look at any South African bank's website and have a little laugh at the ad agency copy that they are happy to post under their mission and vision to simply tick a box. Transformational companies on the list changed their future trajectory by being more accurate and purposeful in their overall mission and vision.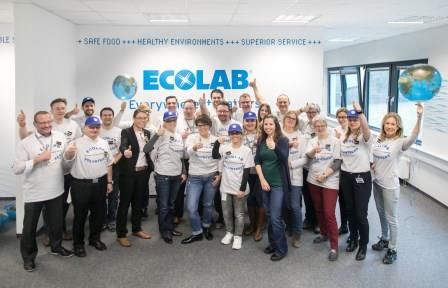 'Ecolab, is a prime example of finding a higher purpose even when the company was not facing an existential crisis. "We had resistance to change within the core organization," says Ecolab CEO Douglas Baker Jr.
"They didn't like the idea of not being the biggest anymore. So we had to deal with all this unintended emotional stuff." In the early 2000s, when Baker became CEO, Ecolab was an 80-year-old firm growing 10% annually by focusing on industrial
cleansers and food safety. "Our strategic plan was to sell more of what we had," Baker says. To grow much beyond its $3.8 billion in revenue, the company could have kept moving into adjacent markets or new geographies, but Baker felt that wasn't bold enough. The transformation began by talking to customers, Baker says.
The same customers who were buying its core products were also voicing concerns about access to clean water. And they weren't alone. Projections for the year 2030 showed that 70% of the world's GDP would be based in water-stressed regions, California and Southern India being prime examples.
In 2011, Ecolab had a $12 billion market cap when it acquired water technology company Nalco in an $8 billion deal. The combined company is now one of the world's leading suppliers of chemistry, hardware and software that helps manufacturers and service firms become more efficient users of water. A primary metric driving the organization is how much water is saved by its clients
annually, which now stands at 188 billion gallons, against a 2030 target of 300 billion gallons.
"We broadened our mission and our purpose statement changed, to clean water, safe food, abundant energy, healthy environment," Baker says. The change in the mission — from the previous "to make the world a cleaner, safer and healthier place" — reflects how Ecolab intends to make the world a better place, and the specificity itself has been galvanising. "As our teams widened their awareness of global issues, our pride has been enhanced," Baker adds.
Protecting and healing the planet has also proved to be financially rewarding. Ecolab's market value now stands at $58 billion, placing it among America's
100 most valuable firms.'
#2 They boldly decided to let go of past success
If you want to create a better future - your focus can't orientated towards the past.
Successful companies on the list actively encouraged a futures-consciousness throughout the organisation - looking for new opportunities and constantly forecasting what the future needs of the market might look like.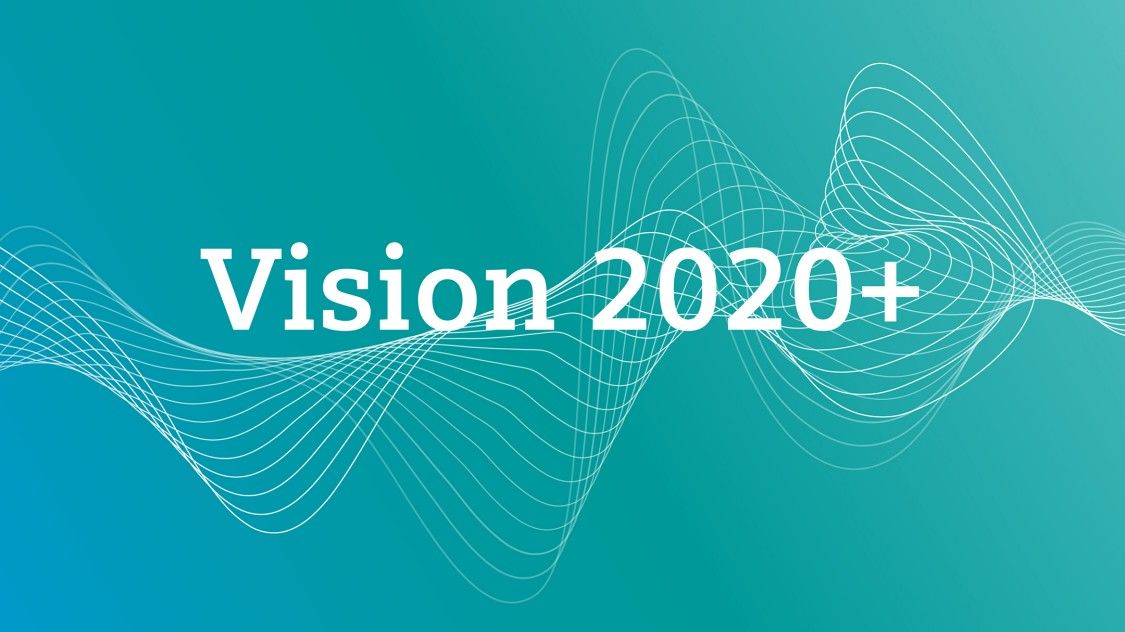 'In 2014, Siemens launched its Vision 2020 plan, which involved phasing out traditional businesses in serving oil and gas companies and industrial manufacturing so that it could build new business divisions and transform into a digital services company for some of the same manufacturing companies that also needed to transform themselves. This was not a small decision for Siemens, as electric power was a core business for 140 years and had generated $30 billion and employed 80,000 people. "It's the right thing to do," Siemens chairman Jim Hagemann Snabe told Reuters. "It's necessary and courageous to trigger the planned changes when the company is doing well." The spinoff gives Siemens the resources for investing in its Digital Industries (DI) and Smart Infrastructure (SI) divisions as the core of the new Siemens.'
#3 Companies that are able to reinvent themselves work with what they do best and leverage it for changing conditions
Companies that have been going for some time have lots of advantages over smaller incumbents - they have strong brands, efficient value chains, access to capital - all of which can be skilfully redirected to take advantages of emerging changes.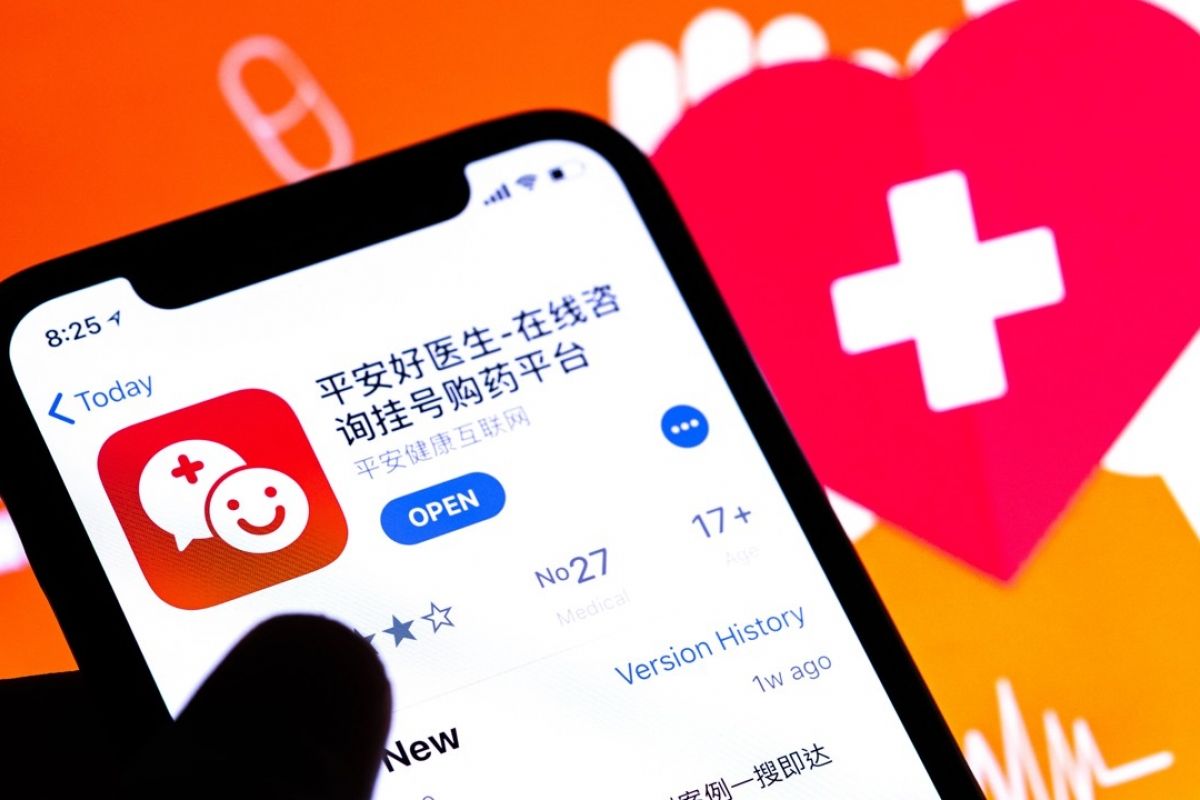 'China's Ping An leveraged its know-how and industry relationships as a traditional health insurance company to launch an online healthcare ecosystem platform called Good Doctor. The advantage of incumbency paid off, as Good Doctor signed up over 3,000 hospitals, 1,000 health clinics, 500 dental clinics and 7,500 pharmacies. This critical mass has attracted more than 265 million registered users, enabling Ping An to stage an IPO of the platform as a separate company, raising over $1 billion from global investors.'
#4 They grab the digital opportunity with brand new business models and platforms
Rather than just seeing digital opportunities as an add-on to their existing legacy business model - successful reinventors design brand new platforms and business models to take advantage of the technology shift. This is a key point because what they have done is to understand that the digital lens disrupts even their own business model. Too many companies try shoehorn technology on top of their existing business which simply doesn't integrate well with it. The legacy business acts like a dead-weight and nullifies the innovation.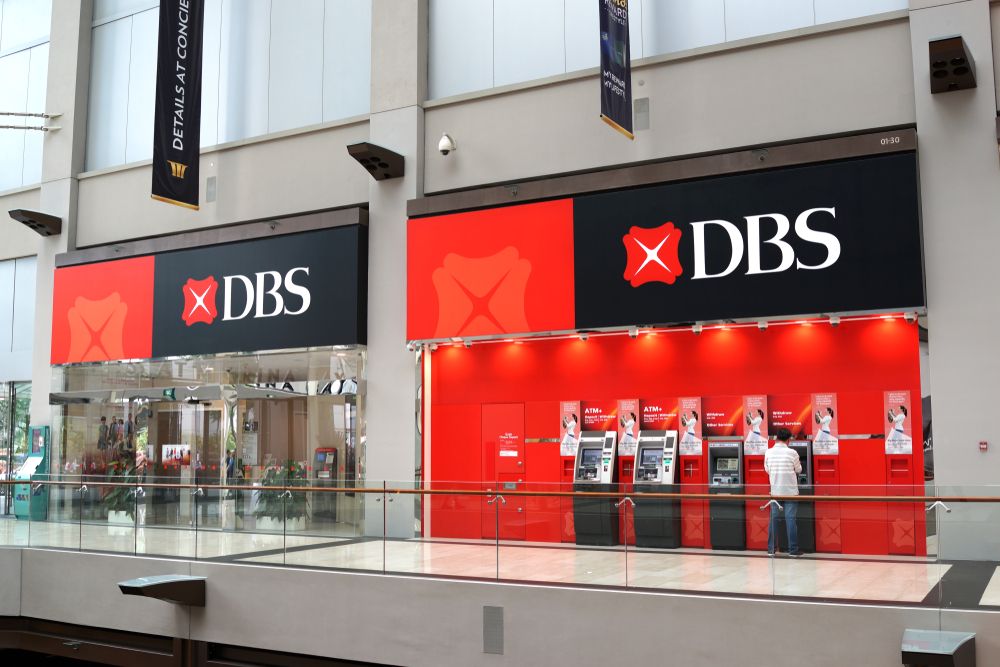 'For DBS Bank, the transformation has been along many dimensions, from a national bank to a regional and global bank, and from traditional banking services to new kinds of fintech business models. But the common denominator to all these efforts has been building new digital platforms, says Paul Cobban, chief data transformation officer. "We went public with an economic model that would determine the value of our digital strategy," Cobban says. "So we can measure how much value we're getting out of this approach." Some powerful results: In 2019, DBS became the first bank to simultaneously hold the titles "Bank of the Year" (The Banker), "Best Bank in the World" (Global Finance) and "World's Best Bank" (Euromoney).
One of the keys to that success was not just going digital but opening up a digital platform that others can play on, taking part of the playbook from companies like Apple, Adobe and Amazon.
DBS launched the world's largest application protocol interface (API) protocol, where financial and retail partners can invisibly integrate DBS's capabilities into their systems. By late 2018, DBS demonstrated that digital customers are at least twice as profitable as traditional customers.'
#5 They don't have an 'innovation department - innovation is a part of the organisational DNA
Transformational organisations don't keep innovative thinking exclusively the task of one select functional unit - it is rather a part of how everyone in the organisation thinks.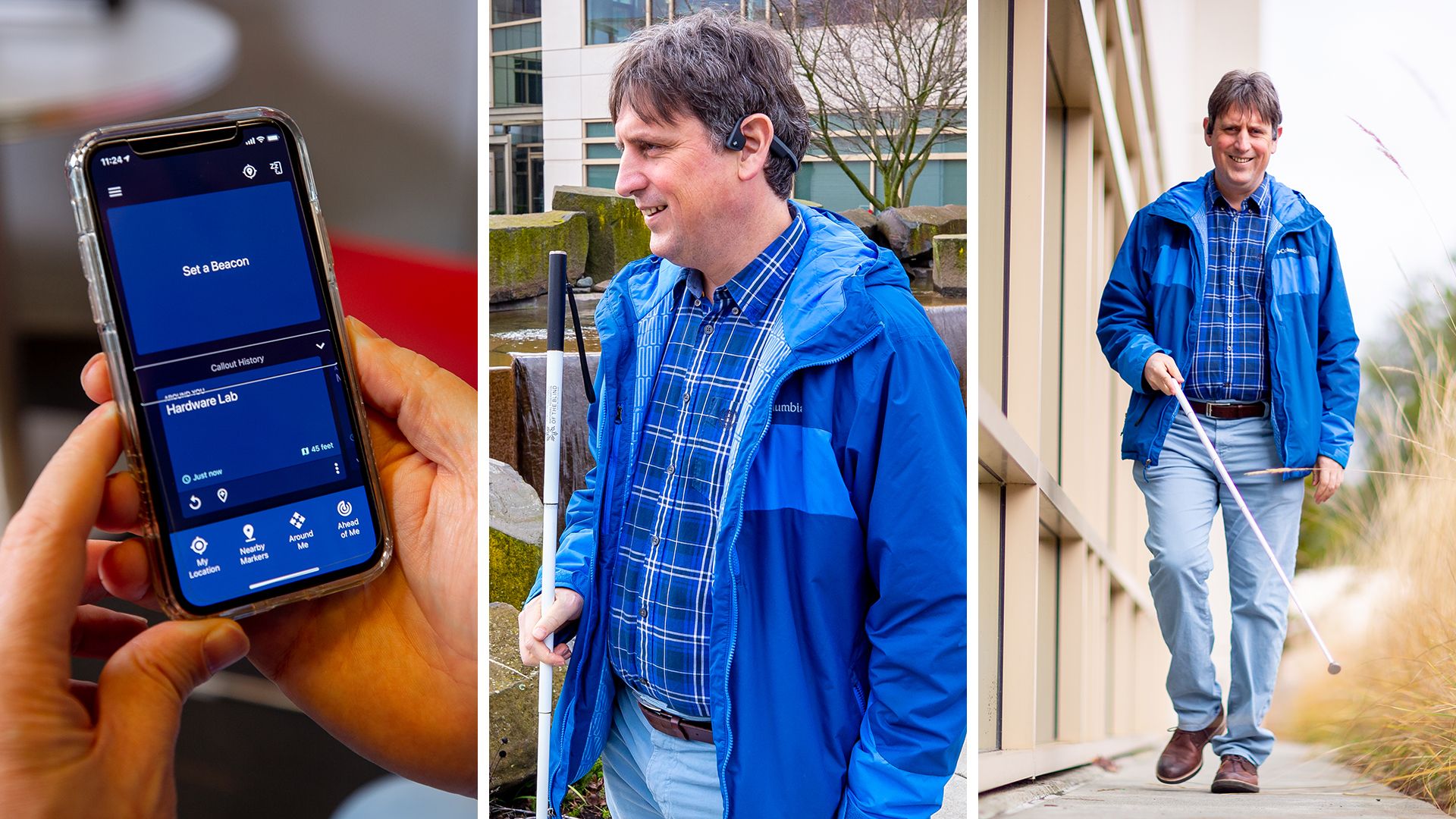 'At Microsoft, CEO Satya Nadella has built a different kind of culture of innovation, less technological and more customer-focused, than the company led by his predecessors.
This was accomplished largely by shifting its culture away from one of competition, where managers were told to rank the value of each employee from 1 to 5. Nadella came up through the organisation by growing its Azure cloud business by asking questions about customer needs. "We went from a culture of know-it-alls to a culture of learn-it-alls," says Chris Capossela, Microsoft's chief marketing officer.
These cultural traits of curiosity and customer obsession are hallmarks of innovative organisations, and it's precisely this behaviour that helps a large organisation pivot to a growth mindset. By many accounts, this has served the organisation well as it moved away from its obsolete mission of "a computer on every desktop," which was technology-focused, to its current mission of "empower every person and every organisation on the planet to achieve more," which is customer-focused.''
---
Change is not easy, but vital in this ever changing world. Companies that are able to stay agile and quickly adapt are the ones that will thrive in the future. This report offers some very useful tips on how entrenched organisations can stay relevant and take advantage of the change all around us.
Previously: The 10 most relevant brands of 2019 - Cherryflava