The Top 10 Most Relevant Brands of 2019
What makes a brand relevant? Relevant brands are those that have a close relationship with their customers, they understand their needs and wants, and relentlessly innovate new ways of satisfying those needs.
What makes a brand relevant?
Relevant brands are those that have a close relationship with their customers, they understand their needs and wants, and relentlessly innovate new ways of satisfying those needs with the relevant value offering.
According to a new report produced by Prophet, The Brand Relevance Index 2019 is the result of a survey of over 13000 US consumers who considered over 225 brands that they said they simply could not live without.
Relentlessly relevant brands engage, surprise
and connect. They delight, disrupt and deliver.
They are restless. They push themselves to earn
and re-earn customers' loyalty — and they define
and redefine what's possible in their categories
and in our world. The companies that have built
relentlessly relevant brands generally have four
common principles.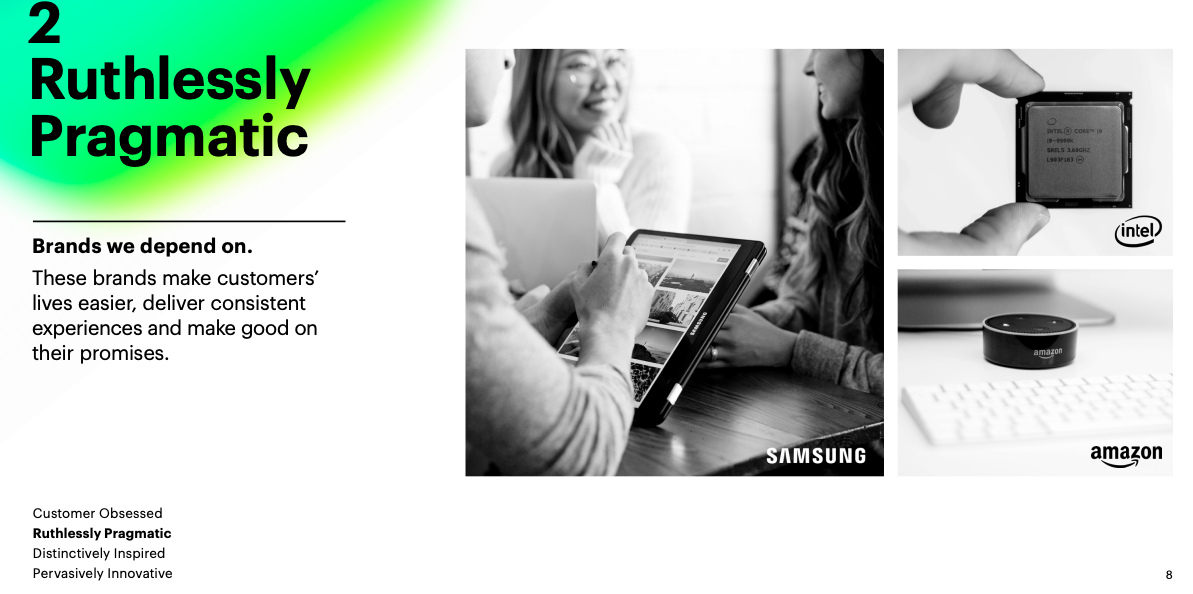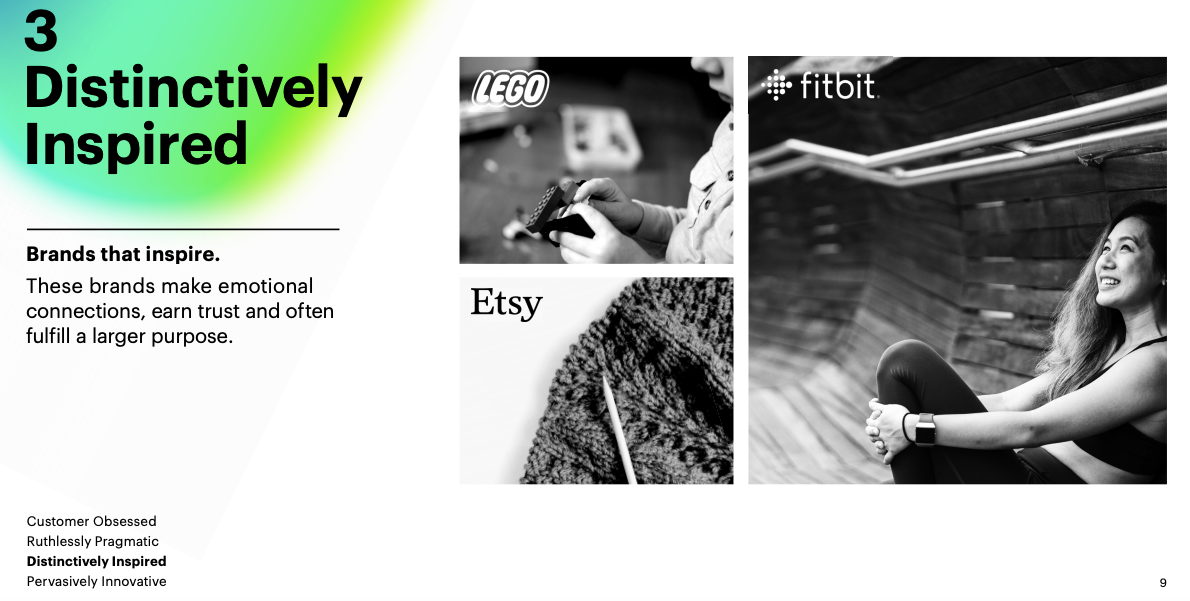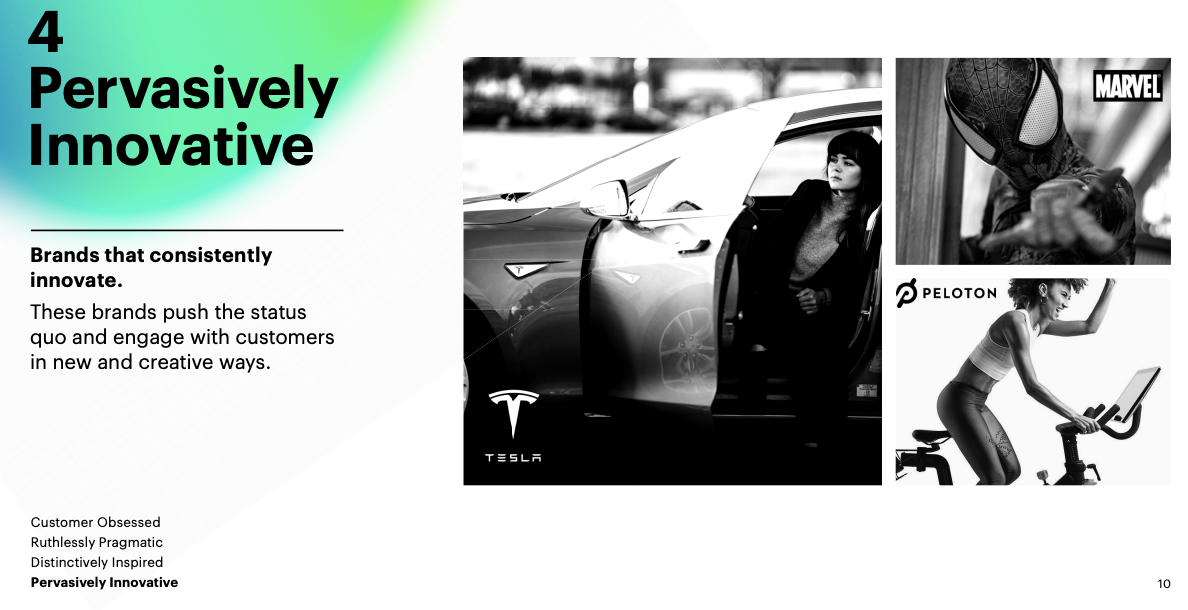 The Top 10 most relevant brands in the US in 2019 are:
Apple - In its fifth year in the No. 1 spot, Apple continues to break new ground. For decades, Apple has been the go-to standard for all things design, inspiring other product companies to innovate the mundane into the beautiful. Apple doesn't stop with its quality hardware products. Sure, iPhones are hot again and gaining market share. But, people are increasingly embracing services like Apple Music, Apple Pay and iCloud, and phone sales represent under half of the company's revenue.
Spotify - While dwarfed in revenues by rival Apple, Spotify's position as a scrappy pioneer earns nonstop R-E-S-P-E-C-T from listeners. It ties Apple on many of our relevance measures and beats it on statements like "Makes me happy," "Connects with me emotionally" and "Makes me feel inspired." And while Apple has passed it in premium subscribers, Spotify still rules in total listeners and is aggressively fighting back with trial promotions. Its interface also makes it easier to find friends, discover what tunes they're playing and collaborate on playlists—establishing some comradely among listeners.
Android - Parent Google is celebrating Android's 10th version with a brand identity update, a new look that underscores its mission of innovation, openness and collaboration. Android's focus on customer obsession continues to win it almost endless love, with more consumers saying, "I can't imagine life without it" and "Meets an important need in my life" than any other brand. And while its share may be falling of late, it still commands some 61 percent of the U.S. market, promising users something new every single day.
Bose - More people in our Index say this brand has better products than its competitors, and of our top 10, it scores highest for living up to its promise. While that sterling reputation has been nurtured over five decades of superior sound, consumers choose Bose for its commitment to delivering quality products that are pervasively innovative. It melds high-quality audio with Wi-Fi and Bluetooth to make products that enable escape from our too-raucous reality. It soothes and surprises fans with the best noise-canceling headphones, noise-masking sleepbuds and Bose Frames – sunglasses that keep people close to their music, texts and virtual assistant.
Disney - Disney inspires. Even in a year when it is registering a rare decline in park attendance, the House of Mouse ties with Pixar (its subsidiary) for making consumers happy. It also leads our Top 10 in purpose and values, and people say it connects with them emotionally–across parks, hotels, cruises and in Disney-branded media. And buckle up for Disney Plus: at $7 a month, it is set to disrupt Netflix, giving families a near-infinite supply of superheroes, Jedi warriors and animated characters.
KitchenAid - KitchenAid brings more to the table, connecting with cooks who see making dinner as a creative challenge, not a chore. They love its dependability, whether they're spending $9,500 on a high-performance refrigerator or $20 for a reliable muffin tin. But since the kitchen is where they express themselves, they also love its celebration of all things edible. The 100-year-old brand is investing in keeping things fresh, including a partnership with ultra-modern Yummly, the mobile app and website that puts users in touch with 2 million recipes.
Amazon - Amazon falls five places this year, even as it sets new revenue records. Our hunch is that while Amazon continues to deliver better than most brands on life's practical needs, it is starting to feel more familiar and less inspiring. With Prime membership reportedly topping 110 million, consumers adore the pragmatic perks, like delivery in a day (or less!) and the ever-present Alexa. However, the shopping experience is devoid of the warm and fuzzy feeling often found in supporting a smaller or local business; consumers gave the brand low marks for values and purpose.
Netflix - Netflix doesn't have an identity crisis, exactly. It still has some 87 percent of the streaming market in the U.S., which means 159 million Americans are 'flix fans. But, even amid strong releases like new seasons of Stranger Things and Orange is the New Black, it recently announced a loss in subscribers. It is shifting away from licensed content (adios, Friends) and is committing to more originals. And with Disney and Apple poised for attack, competitors are gaining, with Hulu vaulting into our Top 50 for the first time.
Pixar - Whether it's a plucky spork, a take-charge shepherdess or angsty adolescent superhero, Pixar characters gallop into our hearts–and stay there. It ranks No. 1 in "Makes me happy" "Connects with me emotionally" and "Engages with me in new and different ways." Its two newest films – the Incredibles 2 and Toy Story 4 – build on the stories Americans of all ages already loved and sent Pixar flying into the Top 10, with uplifting messages for everyone.
Pinterest - Pinterest prides itself on being the last positive corner of the internet, and users agree. It ranks No. 1 in our survey on "Makes me feel inspired" and "Engages with me in new and creative ways." People come here for ideas, with 85% saying it's where they go to start a new project. It has 200 billion ideas, but also brims with love and kindness. When 'pinners' search for stress, anxiety or depression, for instance, Pinterest steers them toward gentle "practices," provided by mental-health experts.

What interesting for me is that KitchenAid makes it into the Top 10 - for a brand, that in my mind is super niche and can possibly  be considered to be an 'old housewives staple', they have managed to move with the times and find a new audience with those choosing to spend more time at home. It's a premium brand, a design icon, proudly American and has found modern relevance through partnerships with technology companies.
If you have more time - have a look too at the most relevant brand is the UK, Germany, China