What kind of focus should your business have to win in your industry?
The winner is....
All businesses function with a predominant internal focus and mindset.
Some are product-focused, others are operations-focused and lastly you find company that are very much customer-focused.
Product-focused company spend the majority of their time improving the product through innovation, design and development.
Operations-focused companies prioritise unlocking efficiencies in their value chain; they worry about margins and how long it takes to deliver value.
Customer-focused organisations put the wants and needs and desires of their customers first; they endlessly engage with customers to understand them better so that they can co-create the future together with them and become an indispensable part of their lives leading into the future.
At the end of the latest 2021 IBM CEO Study - a report that surveys the opinions of more than 3000 CEOs of the world's leading business organisations - is a very interesting chart that offers insights into what orientation the best performing (Outperformer) company in various sectors has.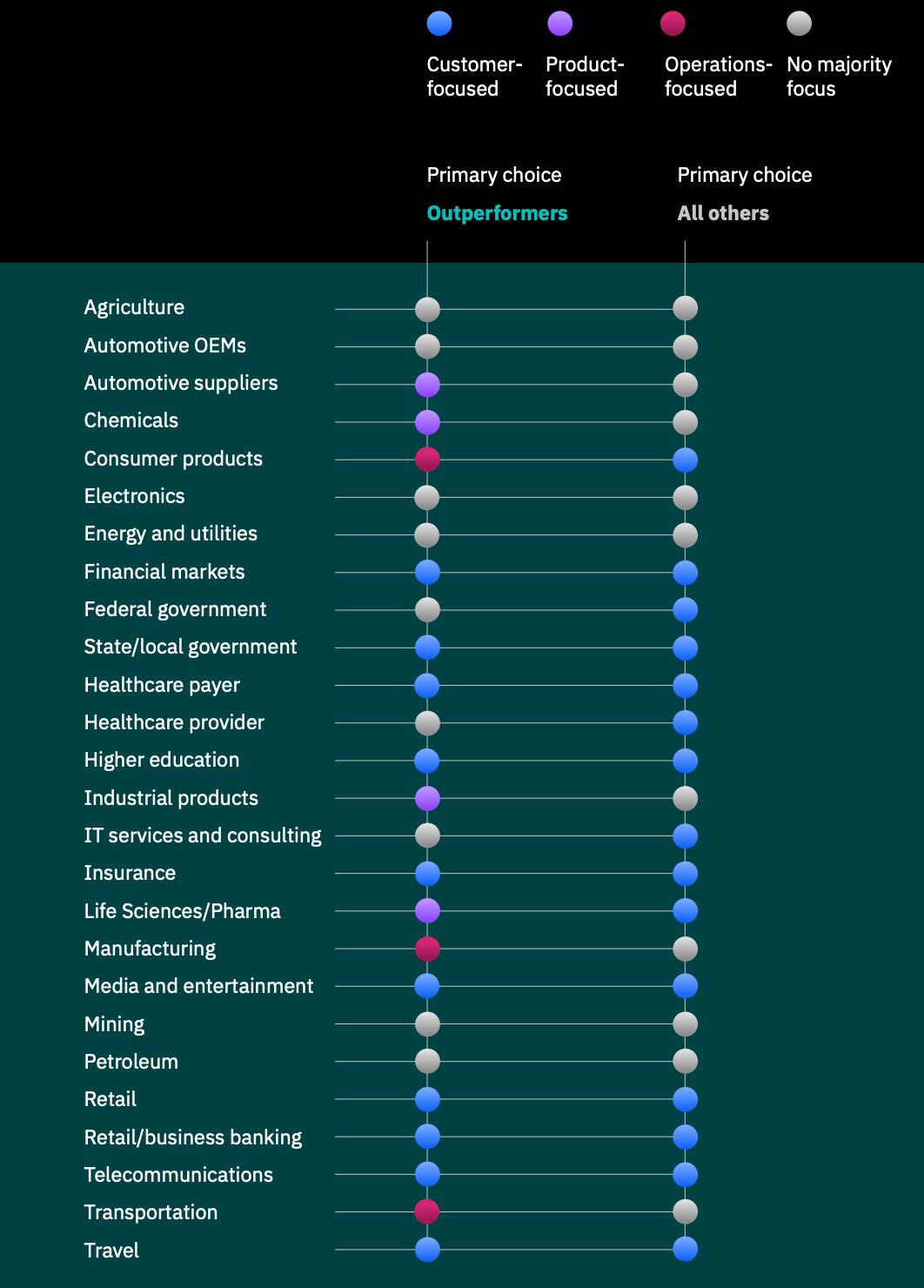 'Analyzing all 3,000 respondents across all industries, we found that nearly 50% of respondents lean toward a customer focus, while 30% identify as product-focused and approximately 20% as operations-focused.
We then looked for distinctive patterns of Outperformers within each industry and found that in 17 of the 26 industries studied (65%), the majority of Outperformers have opted for one focus. In the other nine industries, there is not a clear majority focus among the Outperformers—the results are mixed. '
So the winner is...
The winning model is overwhelmingly having a customer-focus as an organisation.
According to the report:
'Customer-focus is defined in terms of an organization's identification with a willingness to have customer participation as an element of "co-creation" in product design and development efforts; its innovation focus on customer experience; its performance-centered on customer engagement; and its emphasis on the prominent use of customer insights to define and mold organizational capabilities.'
Almost every company will tell you with a straight face that they have a 'customer focus' or that they subscribe to customer-centricity, but in truth most of them don't really have a clue what that even means.
To our surprise, even e-commerce companies fail woefully at leveraging customer-centric insights to determine where strategic interventions should be made.
Terms like CLV, CAC, churn rate and RFM are totally foreign to them.
So this table indicates to us that the best area to develop within an organisation if unlocking the future of the business is important to you, is an orientation towards developing a customer-focus.
That a customer-focus mindset that isn't just something that looks nice in marketing material, but is the key strategic indicator for all parts of the business.
---
Clarify your strategic intent and unlock your customer-focus mindset
Over the years, Jonathan Cherry has consulted to numerous organisations helping them clearly define their strategic intent and strategy map for accelerated business growth and resilience in uncertain times.
If you need a facilitator to take you through this process for your organisation, please get in touch here to chat with Jon.