These are the ads that South Africans liked the most in 2021
Yes...our theory is that you can tell a lot about a society based on what brands and advertising resonates the most with people.
So when Kantar (a research group that indexes things like 'most loved ads') puts out a list of SA's Top 20 favourite ads - it's worth having a little look.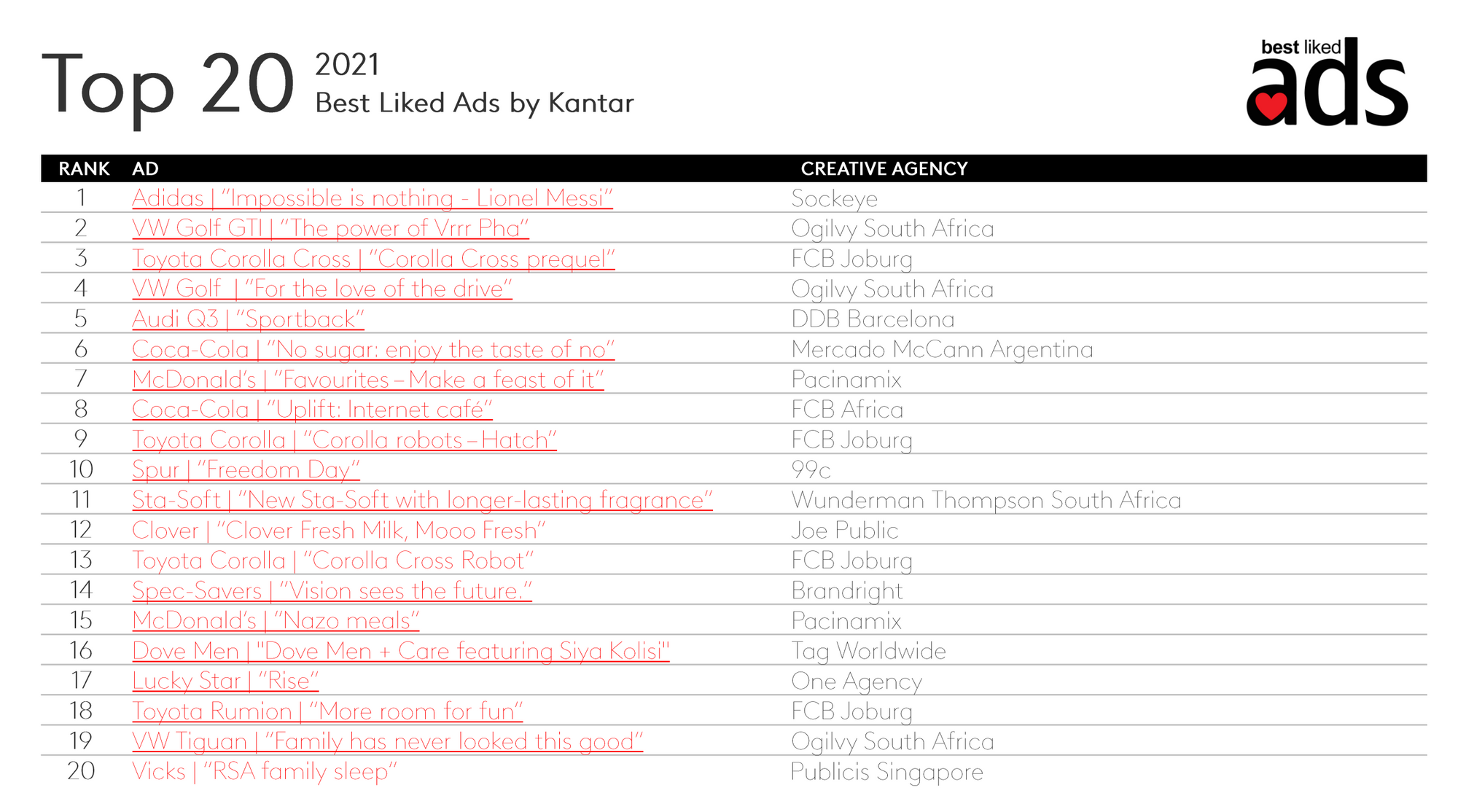 Here are the ads that stood out for us:
#2 | New Golf GTI - The Power of Vrrr Pha
Beautifully shot and edited with an unusual, yet inspired choice of a backing track. This is classic VW South Africa advertising.
#4 | VW Golf s For the love of the drive — Ogilvy Cape Town & Velocity
Stunningly creative idea very well executed. This ad says more about the future of South Africa than most of the drivel that our political parties attempt to throw out there.
#8 | Coca-Cola "Internet Cafe"
Some ads try too hard to be something, while others just seem to find an effortless balance of cool that works somehow. This one feel humble but outstanding all at the same time and because of that, is timeless.
#10 | Spur Freedom Day
Spur knows exactly what value they offer South Africans and focus in on exactly what makes them a much loved South African brand is this one created to celebrate Freedom Day. It's powerful in its simple, on-brand message.
#14 | Spec-Savers SA - Sight sees the beauty. Vision sees the future.
Clearly channeling the style of some of the well-known epic advertising that is coming out of the East - we really like this Spec Savers ad. Maybe that's because this ad is not exactly what you would expect from a discount eyewear retailer. Simple but effective storytelling.
#19 | New Tiguan. Family has never looked this good.
We can all see ourselves and our families in this ad. It's stylistically very different from the Golf style of ads, which gives you a sense that VW South Africa don't try to market different models under the same badge in the same way. Clearly the brand has done the hard yards here of really getting to know the different target audiences.
Of all the ads on this list, for us - VW stands out as the brand that is really working hard to maintain their brand presence in the minds of South Africans. The brand has been with Ogilvy for as long as we can remember and it's clearly a partnership that is getting even better with time.
The South African consumer is aspirational; there is a deep desire for middle-class attainment. What resonates is simplicity, but also a message that carries a certain level of cadence, rhythm, story and an orientation towards the future.  
---