The world's most valuable retail brands 2020
If I'm honest - going through this report that lists the world's most valuable retail brands leaves me cold.
If I'm honest - going through this report that lists the world's most valuable retail brands leaves me cold.
According to Brand Finance, the world's leading independent brand valuation consultancy, the world's most valuable brand - by some considerable margin is Amazon.
In summary:
Amazon is by far world's most valuable retail brand and makes history as its brand value exceeds US$200 billion mark.
Amazon overtakes Japan's 7-Eleven to become world's strongest retail brand, Brand Strength Index (BSI) score 89.1 out of 100
Supermarket brand demand spikes and brand values expected to grow
Hard times predicted ahead for home product stores. Home Depot could lose up to US$6 billion worth of brand value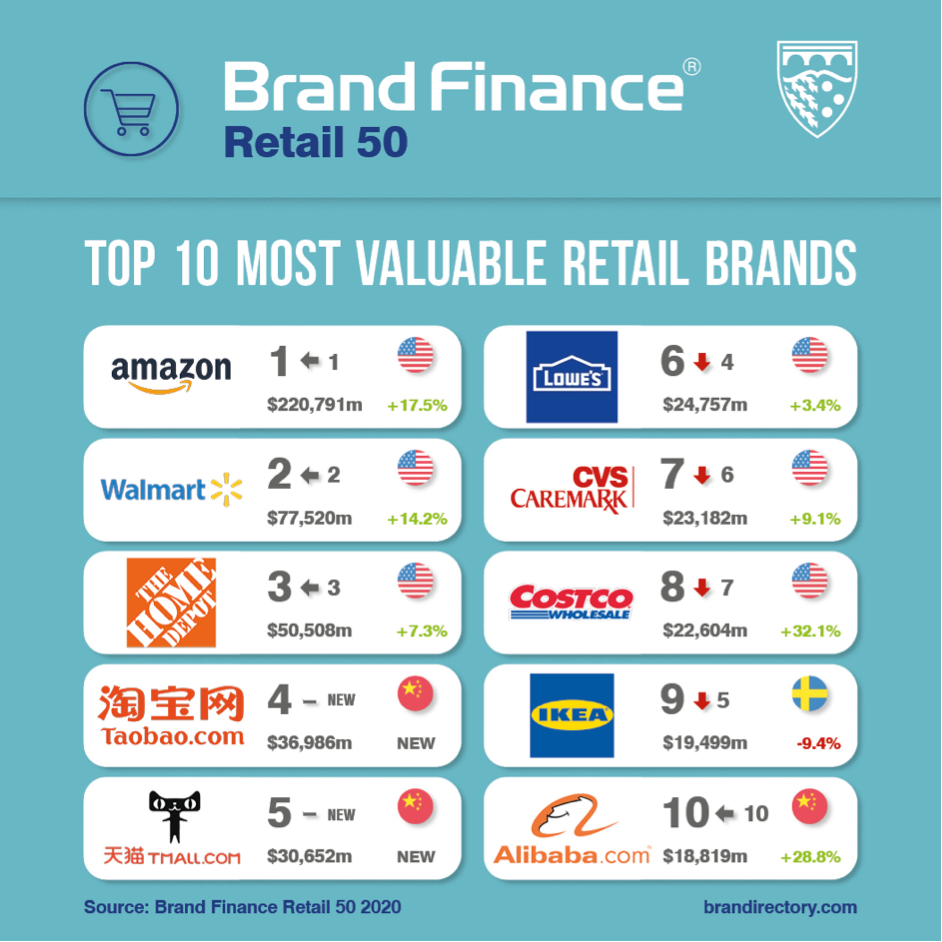 Amazon marches on
'Amazon remains a cut above the rest in the Brand Finance Retail 50 2020 ranking, breaking the so far unattainable US$200 billion brand value mark, following 18% growth from US$187.9 billion last year. Amazon's brand value has now reached US$220.8 billion, substantially ahead of second-placed, Walmart, with a brand value at US$77.5 billion. The majority of Amazon's revenue still comes from its retail division and despite the growing challenges to the brand - particularly in its international operations – the brand is untouchable in the sector.
As with fellow e-commerce brands, Amazon has been negotiating the unprecedented surge in demand as consumers turn online following wide sweeping store closures. With over 100,000 workers hired and more in the pipeline, the brand is fighting to meet this demand. This spike has not come without its challenges, however, as Amazon's logistics and supply chain network are being stretched to uncharted levels and the brand's illustrious next day delivery service is being compromised, with fulfilment and third-party vendors extending their lead times considerably. First time users of the platform will not be experiencing the world leading level of speed that the brand prides itself on, which could jeopardise the long-term reputation of the brand.
"Amazon's sheer dominance in the e-commerce space should stand them in good stead in the coming months as the world tackles the far-reaching repercussions of the COVID-19 pandemic. Brand Finance has calculated that Amazon's brand value could grow a further US$4 billion. This boost in brand value is, however, only likely to be short-term. The world's online marketplace must look beyond the coming year to ensure that quality and speed are not compromised, should it wish to maintain its exceptional reputation and thus retain new users."
Walmart on the rise
In the traditional retail space, Walmart has seen its brand value resurge, jumping 14% to US$77.5 billion. As well as committing to its expansion programme in key markets, Walmart has focused on an innovative digital proposition, through a partnership with Microsoft and with the launch of Alphabot – robots that pick and pack online grocery orders at high speeds. Walmart - along with fellow mass merchant stores and supermarkets - is likely to see a boost to brand value following the COVID-19 pandemic as demand reaches an all-time high and strong storage and supply capabilities can be leveraged.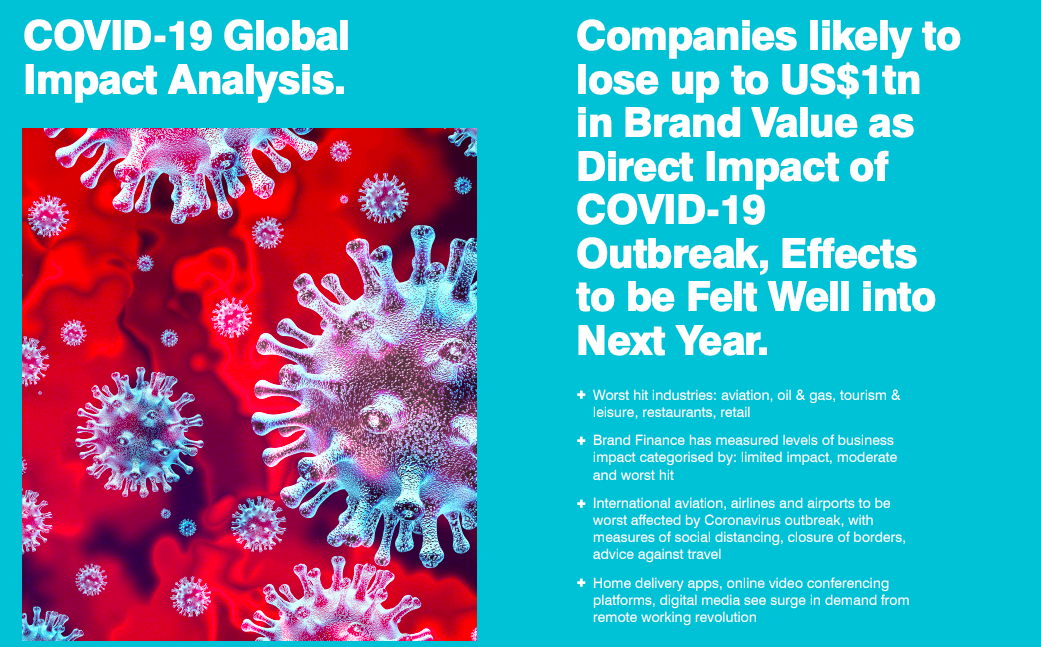 Supermarkets surge
Discount supermarket chain rivals Lidl (US$12.4 billion) and Aldi (US$14.3 billion) are the fastest growing retail brands in the ranking, growing 40% and 37% respectively. Lidl and Aldi have reshaped the supermarket landscape by winning market share from their long-established high street counterparts. Initially competing on price leadership, both chains have gradually earned their customers' trust and loyalty. With almost identical propositions, however, the brands will need to differentiate themselves in order to continue to successfully widen their footprint globally.
In contrast, British supermarket chain Sainsbury's is this year's fastest falling brand after dropping 27% to US$4.2 billion. Two further British supermarkets feature in the ranking, Tesco (down 3% to US$11.0 billion) and Asda (up 14% to US$6.3 billion) claiming 16th and 28th position respectively.
Richard Haigh, Managing Director, Brand Finance, commented:
"Supermarkets are one of the few winners to come out of the COVID-19 pandemic, with brands seeing Christmas levels of demand, resulting in hiring sprees for thousands of temporary workers – Tesco alone has hired 20,000 new workers in the UK. It is likely that many of them will rebound and post positive brand value growth over the course of 2020, while brands other retail segments are struggling."
Hardship ahead for home product stores
Despite being the world's third most valuable retail brand and recording a solid 7% increase in brand value to US$50.5 billion, Brand Finance's COVID-19 impact analysis suggests that home furnishing and improvement stores such as Home Depot are likely to lose the most brand value, dropping up to US$6 billion. Although the brand has cited increased demand for urgent home repair products, this demand is unlikely to offset the decline in big-ticket item purchases, as well as other construction products.
The story is similarly as bleak for fellow home product stores in the ranking - Lowe's (up 3% to US$24.8 billion), Ikea (down 9% to US$19.5 billion) and Leroy Merlin (up 21% to US$4.7 billion) - which all stand to lose 12% of their brand values. These brands lack of strong online presence means they will struggle to maintain sales revenue as they negotiate reduced store hours and closures. As with other brands globally, the level of damage to these stores will depend on how long the pandemic engulfs their markets.'
You and download the light version of the report here.
[Many thanks to Jeremy Sampson for sending this to us]
---
To get back to why the report leaves me cold, it's perhaps a personal disappointment that in this context at least, big is beautiful.
There is no doubt that Amazon is a massively powerful brand, but I really wish it weren't so. Amazon to me, is an efficient machine of a business, but lacks serious personality. It's obviously a reflection of where the world is right now, but not one that leaves me personally leaping for joy.