In December 2018, my fiance and I traveled to Budapest, Hungary.
A friend of ours heard that we were going there, and before we left, recommended that we wake up early on morning and go to a small bakery in the city called Alma Nomad. You have to get their early, because once everything is sold out - they close the shop for the day. By 11am most mornings the place is locked up.
We were told that they sold the best coffee and almond croissants in the city.
When we got to Budapest; we made our way to the bakery the very next morning.
It's not that difficult to find Alma Nomad - just spot the tiny shop [that only has space for about 5 people to squeeze into it at any one time] with the very long queue snaking its way around the corner outside.
The first morning we were there - it was raining like mad (this was the middle of a freezing cold European winter after all). But undeterred we stood in line - in the freezing - rain for about 30 minutes waiting to get inside and order.

Inside the place is minute and chaotic. There are baking tins and trays of pastries everywhere. It's warm and cosy and surprisingly quiet, but the smell of the shop is what dreams are made of (for everyone but Prof Tim Noakes).
The bakery is run by a young husband and wife team, as well as an assistant - and they are multitasking like productivity champions.
They're taking orders, baking stuff, answering the phone, making coffee, filling brown paper bags with bread and croissants, operating the card machine and still connecting with each other - all at the same time, but quietly...intuitively.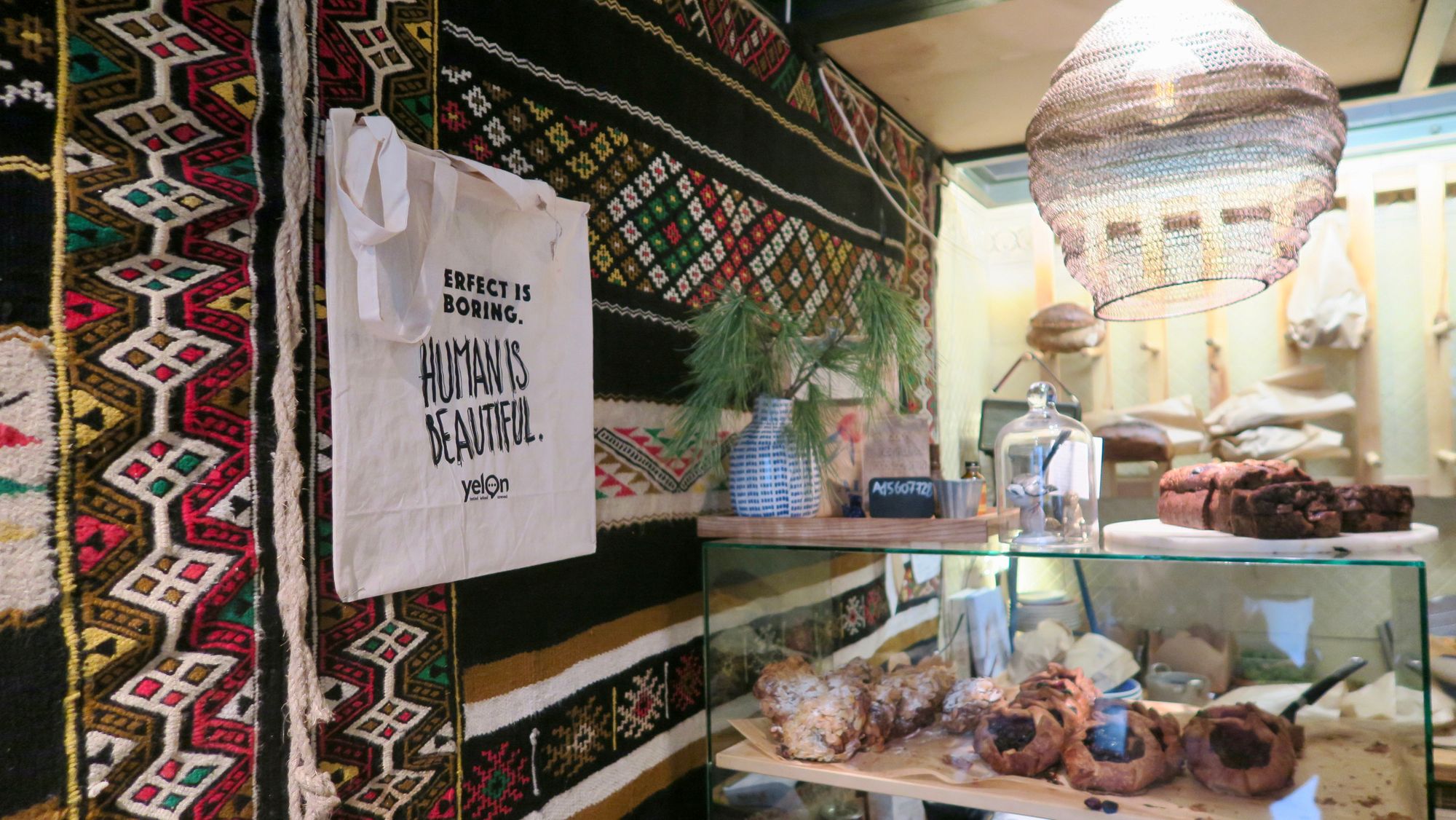 As suggested we ordered the almond croissant and coffee, which probably cost the equivalent of R80 [US$6].
The croissant was huge, warm, bristling with toasted almonds and just a suggestion of a dusting of icing sugar. The pastry cracked loudly under the lightest of application of finger pressure, yet the filling was dense and rich and smelt like the inside of the Garlicks tearoom in the 1970's.
There's no ways that you can eat a whole Alma Nomad croissant by yourself - it's designed to be shared.
The coffee was equally as enjoyable - smooth, no bitterness, perfectly frothed.
If you are ever in Budapest - do yourself a favour.
Apart from the remarkable experience of enjoying probably the best almond croissant in the world, what I realised is that Alma Nomad is the perfect definition of a small business.
Here were two people who clearly loved what they did, were perfecting the art of improving their product constantly; and fully engaged in the process of constantly improving the crafting their product. They didn't need to do much promotion of the shop, because the quality of the product did that for them.
They were happy to close the shop at 11am and spend the rest of the day with themselves and their family, because there was no need to stress about scaling the business, or opening up new branches, or other growth worries like that. They were happy with 'just enough'. Happy with just operating a successful little shop and their very own product line and keeping it just that.
Who says you need to grow? Who says you need to scale? Who says you need to add complexity to your already successful business recipe?
As long as you can understand and define your own distinctive brand and then dedicate your working time on getting better and better at that - you will always have a steady demand for your work.