The Amazon strategy on a napkin
How Amazon overcame their biggest challenge.
There are a number of ways that a competitive business can choose to orientate itself.
It can choose to be product-focused, competitor-focused, technology-focused, profit-focused, internally-focused or customer-focused.
The poster child for having a brilliant customer-focused strategy is Amazon; from the get-go their intention was to create the world's most customer-centric organisation.
'Jeff Bezos would constantly remind employees to wake up every morning terrified… not of the competition, but of Amazon's own customers. Customers are fickle; they are loyal to a company until a competitor offers a better service. Amazon designed its core value proposition around keeping customers happy by constantly offering more selection, better convenience, and lower prices.' - via
That simple strategy was neatly jotted down on a napkin by Bezos.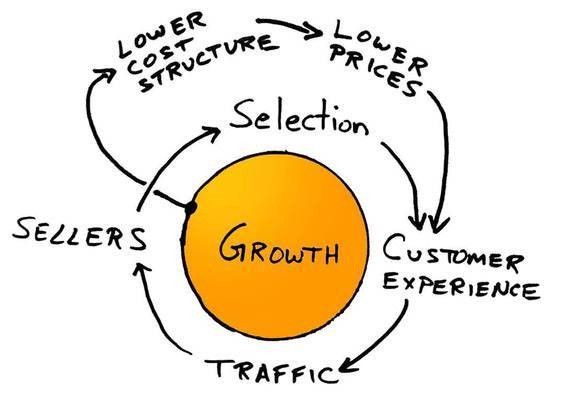 If the outcome you are aiming for, is the best customer experience that can possibly be created by an online retailer, then the approach to achieving that (or at least a good approach) is the Bezos sketch.
A low-cost structure leads to lower prices, which combined with a large range of products leads to a better customer experience. These happy customers return to purchase more items on Amazon sites, driving traffic and attracting more third-party sellers. This leads to more selection, which further contributes to a better customer experience.
The strategy is a reinforcing feedback loop that builds in power and momentum as time progresses and competency improves.
Need help with your strategy?
Our key strategy workshop is the solution to get you doing tomorrow's business better.
More here
It's all about the long term for Amazon
From the beginning, Bezos was adamant that Amazon's orientation was also on the long-term view, rather than the demands of the short-term.
What this means is that decision-making at Amazon is made through the lens of what those decisions mean for the long-term future of the business rather than the near term gyrations of the market or shareholder demands.
From the very first letter to shareholders in 1997 - this is the position Bezos claimed:
We believe that a fundamental measure of our success will be the shareholder value we create over the long term. This value will be a direct result of our ability to extend and solidify our current market leadership position. The stronger our market leadership, the more powerful our economic model. Market leadership can translate directly to higher revenue, higher profitability, greater capital velocity, and correspondingly stronger returns on invested capital. Our decisions have consistently reflected this focus.
We first measure ourselves in terms of the metrics most indicative of our market leadership: customer and revenue growth, the degree to which our customers continue to purchase from us on a repeat basis, and the strength of our brand. We have invested and will continue to invest aggressively to expand and leverage our customer base, brand, and infrastructure as we move to establish an enduring franchise.
The focus is clear and logical and premised on a long-term vision leveraging a coherent set of principles and actions.
We intend to build the world's most customer-centric company. We hold as axiomatic that customers are perceptive and smart, and that brand image follows reality and not the other way around. Our customers tell us that they choose Amazon.com and tell their friends about us because of the selection, ease-of-use, low prices, and service that we deliver.
The key takeout here is that for Amazon financial success and growth are outcomes of a dogged-focus on customers.
Most companies lead with financial growth and then try to plug in the customer somewhere, which may appear to be easier to control, but the challenge isn't about control - it's about being compelling.
Our customers have made our business what it is, they are the ones with whom we have a relationship, and they are the ones to whom we owe a great obligation. And we consider them to be loyal to us – right up until the second that someone else offers them a better service.
Amen.