Mr Price's big ambition for the future
To be the most valuable retailer in Africa.
Yesterday morning we heard that the Mr Price Group (one of South Africa's leading fashion and homeware retailers) is buying a majority stake in a company called Studio 88 for...(you may want to sit down for this)...R3.3 billion.
You are totally forgiven if you have never heard of the Studio 88 Group, or any of its retail brands (because we had never heard of them before either). It may also then surprise you that they operate out of more than 700 physical outlets across the country and have an online store.

According to the official press release detailing the deal:
'The Studio 88 Group is the largest independent retailer of branded leisure, lifestyle and sporting apparel and footwear in South Africa, generating revenue of R5.6 billion for the financial year ended 30 September 2021. It is a founder-led business which has been operating in Southern Africa since 2001. The Business owns and operates retail outlets that offer clothing, footwear and accessories, trading through Studio 88, SideStep, Skipper Bar, John Craig and other chains.'
'The Studio 88 Group is focused on consumers who make aspirational fashion choices. The merchandise range is a mix of international brands, some of which are under exclusive license agreements, as well as private label ranges. The Business operates through in excess of 700 stores, predominantly based in South Africa, which are positioned in central business districts' regional malls and rural high streets, and via its e-commerce platforms. The Studio 88 Group is highly cash generative and operates on a cash-only basis, which contributes to its value positioning.'
Now - if memory serves us correctly, we remember very clearly that it was just last year that Mr Price acquired a retailer called Power Fashion, as well as 100% of premium homeware retailer Yuppiechef (nice one Yuppiechef); and in the fine print somewhere in the release, we noted that the Studio 88 deal is being paid for from cash reserves.
That's a significant war chest.
Clearly Mr Price are on the hunt for more, which makes us wonder what their longer-term strategy is.
What is it that Mr Price are trying to achieve in the future?
Let's have a look for some clues as to what their plan is in their latest published investor presentation:
Firstly, a fresh new vision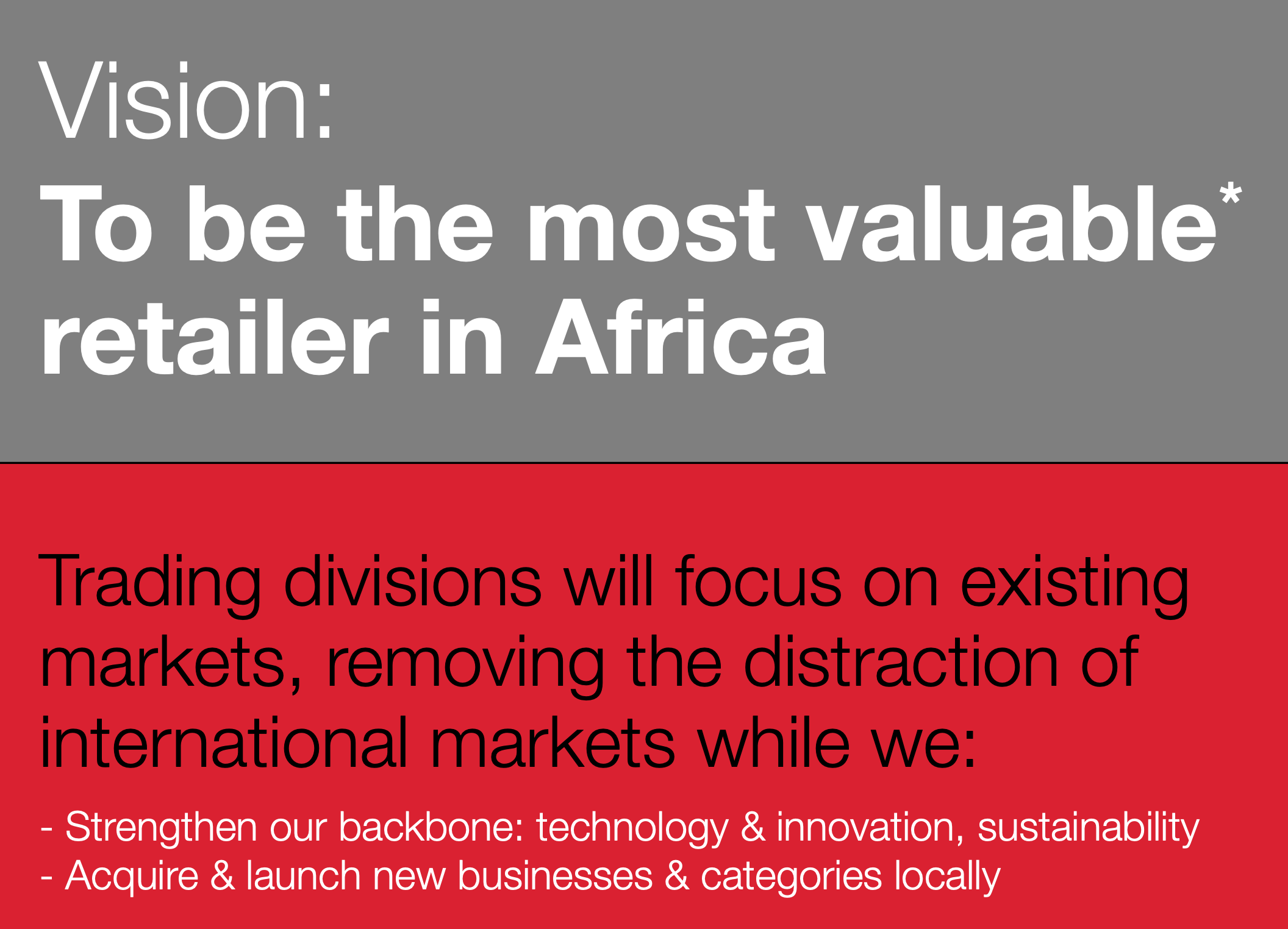 While their competitors are paying massive 'school fees' and getting themselves slapped in the face by attempting to grow internationally; Mr Price almost make a public joke of that idea of international expansion in their official documentation.
Their focus is on growing locally, with a clear vision 'to be the most valuable (as measured by market capitalisation) retailer in Africa.'
Their purpose is clearly then purely focused on simple shareholder value maximisation; no cute puppies and maidens gently plucking golden harps here. These guys are hardcore capitalists and as much focusing on financial return exclusively doesn't exactly warm the cockles of the heart - at least it is vision that you can measure your progress towards.
How far off are Mr Price of achieving their brand new target of being #1 (in South African terms) by market capitalisation?
Shoprite - R141 Billion
Pepkor - R86 Billion
Clicks - R76 Billion
Woolies - R63 Billion
Mr Price - R54 Billion
There's some distance to travel still, but with the right kind of organic growth and acquisitions the next two targets on the list should be plausibly passable; pipping the top two is going to take some doing.
6 key strategic drivers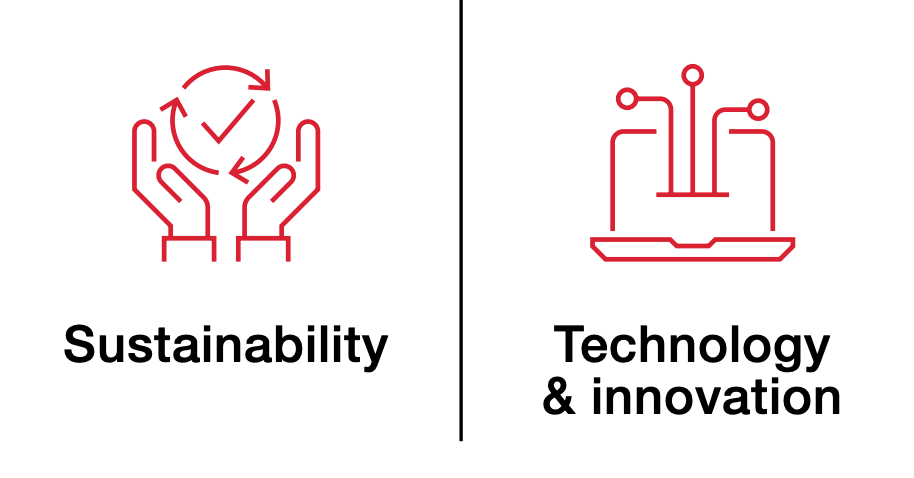 Mr Price have listed 6 key strategic drivers of their business: sustainability, technology and innovation, growth, brand promise, stakeholder engagement and people.
Without being overly critical here, this collection of key points of leverage doesn't exactly tell you very much about what their unique future-focused ideas might actually be. (BTW - this is not the case with Shoprite, who were far keener to share some 'SMARTER goals' in their slides).
We specifically highlight this because the point is that just about any business can copy and paste these 6 drivers and get the proverbial thumbs up from the board; that's the issue with this kind of ambiguity.
There are however a few more clues as to how these six drivers translate into actions.
Areas of growth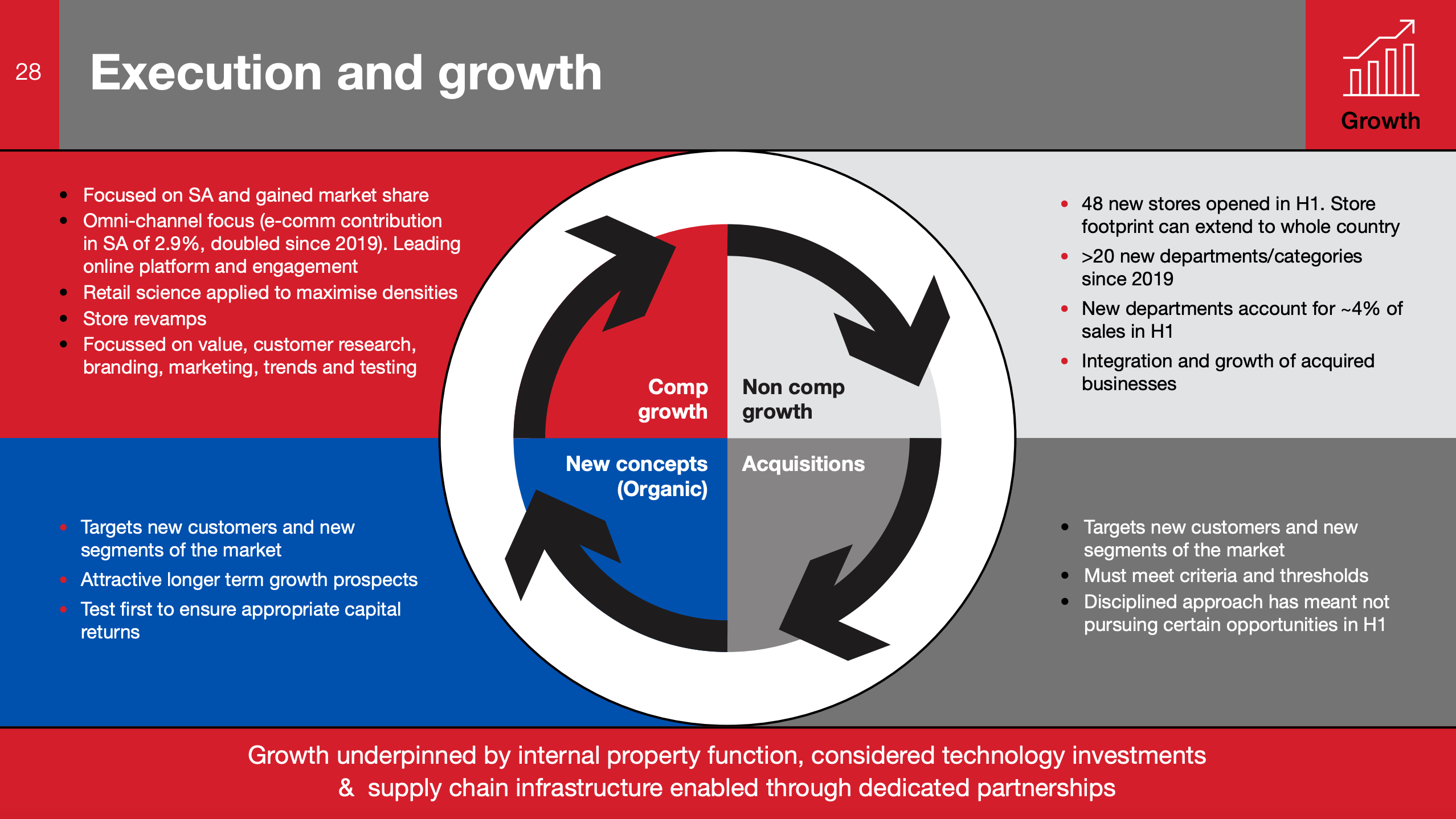 When we look at this slide - a few key words stand out: omni-channel, science and new customers and segments.
These are growth routes that perhaps would not have been found in earlier Mr Price presentations. The mention of these terms, as well as an acknowledgement that despite spending R138 million on it e-commerce is currently only delivering 2.9% of their sales, points to where they feel there is good strategic value to be unlocked into the future, should they successfully focus their efforts there.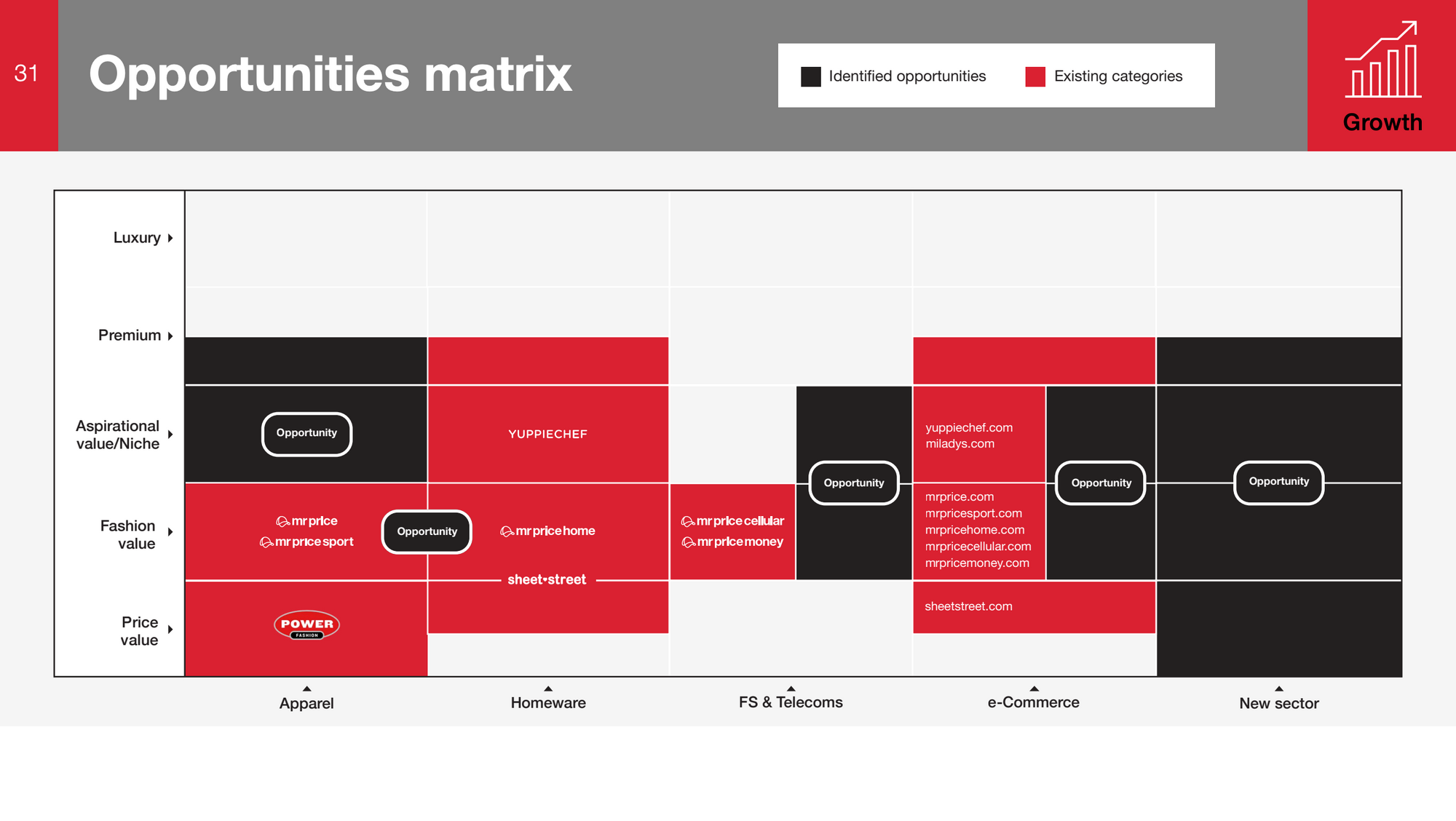 Considering 'the segments of opportunity' part of the statement, there are clearly a number of areas in which the group can still grow and acquire new assets.
Presumable the investment into Studio 88 would have ticked the 'Aspirational / Premium Apparel' box, but a big question mark looms in that big black box above the e-commerce tab.
Technology drive
Yes - obviously these days every single business is on the mission of digital transformation, but how Mr Price interprets that mandate is perhaps unique.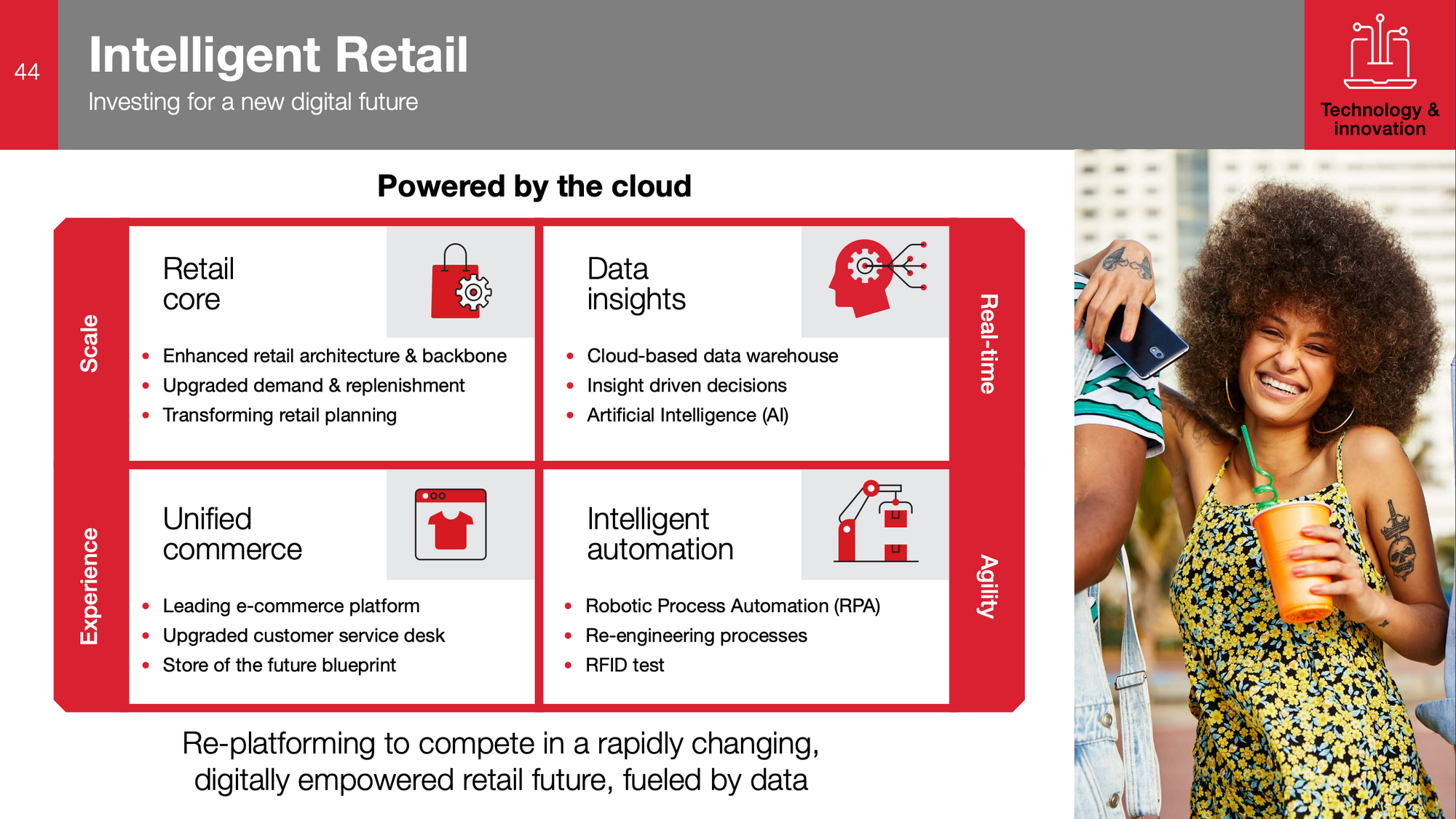 With a focus on brands (which they completely own, as well as brands that they have exclusive regional agency for thanks to the Studio 88 deal) as well as domination in diverse segments (fashion, homeware, cellular etc etc) - Mr Price see a lot of opportunity in housing all of that on what they call a 'unified platform' that then collectively leverages customer data to vastly improve their own 'retail science'.
There is significant urgency, we suspect, to get this right because in the past, Mr Price have made some critical errors in their forecasting models, forcing them to write-off huge amounts of stock, which severely negatively affected their share price.
These mistakes were costly and embarrassing and no doubt prompted management to find a way to make sure it happens less in the future.
If you can better understand customers needs and behaviour thanks to data insights that you harvest via modern technology amplified by a well-designed omni-channel platform, you not only have the ability to make better buying decisions, you also have the luxury of higher-margins to maximise financial returns on the back of fewer mark downs.
What to take from this?
The Mr Price plan is clear; their growth strategy is to attract new customers through the allure of desirable brands and multiple-segments, maximise margins through their own brand products, improve their costs through 'retail science' tools and keep customers coming back for more and upselling them on various verticals by platforming all of this on a modern omni-channel stage, which allows them to get closer to their audience.
Historically Mr Price have positioned themselves as a high-margin value retailer, now however they are choosing to acquire opportunities that give them lower margins, but attracts a new customer to their stable, which they can then migrate, over time, to higher margin products.
Perhaps the best way then to look at those previously mentioned key strategic drivers is not in isolation of each other, but as a complete system of growth.
Unlike the approach Shoprite are choosing to take, which can best be described as a 'duel transformation' - Mr Price are singularly transforming their entire business into an African omni-channel monster.
The challenge with this approach is in the knitting together of all of the parts to realise the benefits. This is going to take some nimble footwork to get right, but I certainly would never, ever bet against Mr Price being able to accomplish it.