What future-orientated strategies should South African media companies be considering?
Get better, or get out.
Media globally is in turmoil; it has been for a while.
The underlying business models of newspapers, magazines, radio stations and television studios has radically shifted over the last decade. Digitisation has smashed open an industry that is now still scrambling to find a sustainable way to operate.
Once advertisers used to line up to get their DPS offerings in the best possible positions in their preferred title; now the titles that do still remarkably exist, fight tooth and nail to convince agencies of their intrinsic value.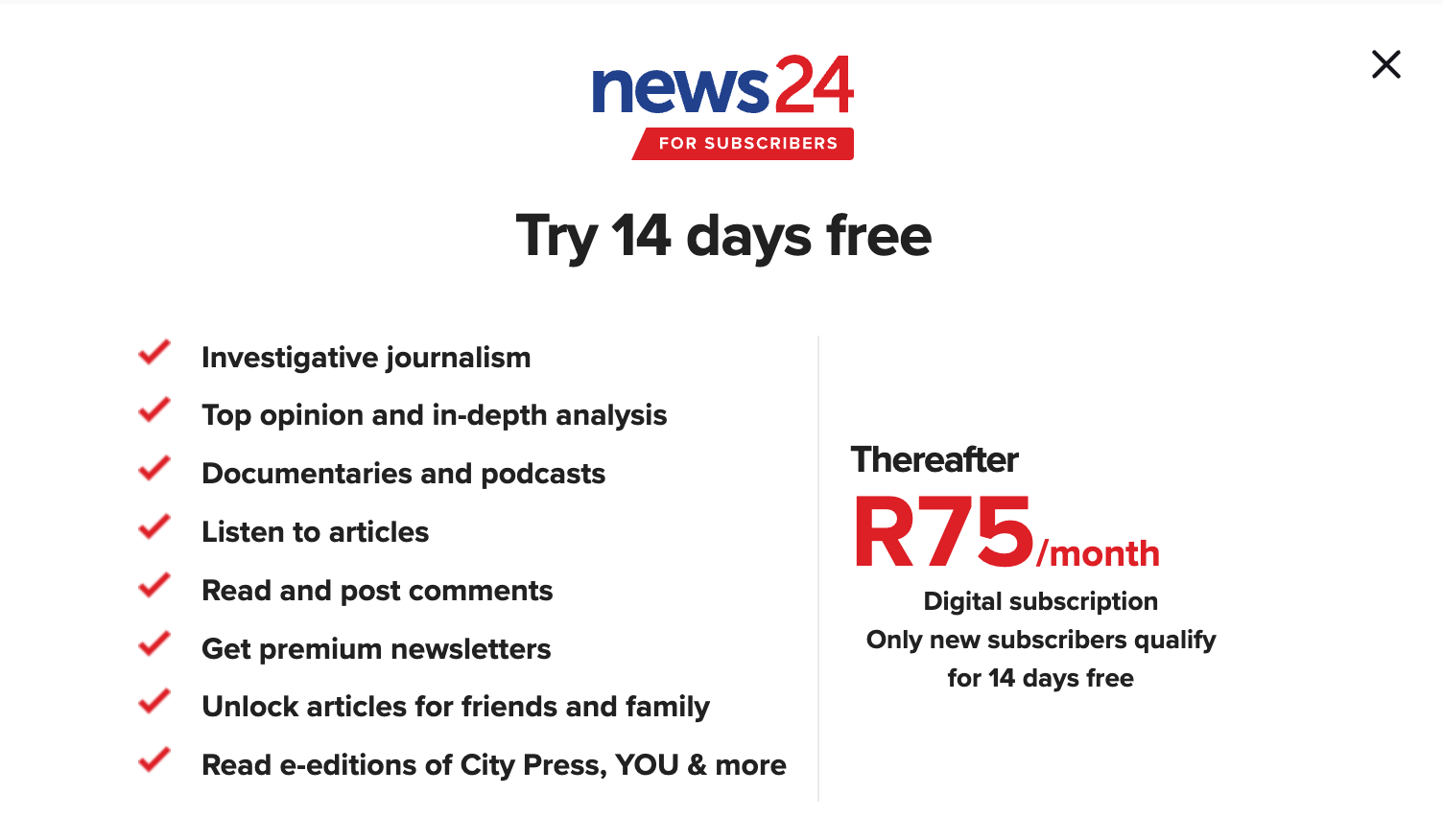 One strategy that some South African news outlets - like News24 - have chosen to pursue is subscriptions. For just R75 per month you too can have access to all of the depressing local news that you can possibly consume. Mmmm - how compelling is that?
But News24 is not The New York Times - it doesn't employ Pulitzer-award winning journalists, it doesn't have the brand or the legacy, it doesn't have the business tenacity to innovate or levels of excellence to frankly charge anything for what essentially is...a commodity.
What works strategically in America, doesn't necessarily easily translate into the South African context. Simply doing a copy and paste of other successful international models is easy to do, but rarely yields the intended result.
So if the online subscription-model is not ideal for local audiences, what then are the strategic options that South African media could be looking at?
In a recently published academic paper - published freely online - researchers attempted to understand: 'why people don't want to pay for online news'.
They wanted to understand who are the audiences that are more likely to pay for news - and for the rest - what's holding them back?
Young people more likely to pay
For this paper on people's considerations for (not) paying for news, several patterns, nuances and contradictions in the existing literature are particularly relevant.
First, age plays a somewhat contradictory role. Although young people are less likely to be interested in news , they are more likely to (be willing to) pay for online news.
An explanation for younger people's greater likeliness to pay for news is that they are more familiar with paying for online (media) services like Spotify and Netflix.
Researchers also found that younger participants showed interest in an individualized subscription model, paying only for those sections they are interested in, whereas older participants preferred subscriptions with a broad, professional selection of news.
Young people are more likely to pay for online content, but are not really interested in reading general news stories. Niched stories targeted at a younger audience that is packaged in flexible was with an easy opt-out function are far more likely to find a buying market.
Perception of quality matters
Research also shows a positive relationship between perceived quality and paying for news . Here, materiality matters: online news is generally seen as less valuable or worth paying for than print news. Researchers found that online news is an "inferior good", meaning that as people's income goes up, their consumption of online news goes down. The print newspaper, on the other hand, is a "normal good", characterized by a positive relationship between income and demand. Findings from qualitative research confirm that news users tend to see online news as superficial, commodified, and lacking something extra.
You either have unbelievably good, unique content, created by a well-known, award-winning journalist that's sold online; or you build the prestige of a physically printed publication aimed at an older, wealthier market.
Subscriptions have become saturated
Another price-related consideration for not paying for news was that participants felt they already spent enough on monthly subscriptions (Netflix, Spotify, smartphone, etc.). It wasn't so much paying in itself that was emphasized here, but more so adding another monthly expense to the list.
Asking people to subscribe monthly to a media service in an increasingly globally saturated marketplace is very risky. This reality ironically opens the door for one-off purchases of printed publications where customers can choose to buy a newspaper / magazine in the moment to enjoy. Just make sure the issue is compelling enough to ensure the sale on the newsstand.
In conclusion
Personally, we subscribe to The Economist and The New York Times because the quality of the product is excellent.
Since News24 went subscriber-only - we've entirely deleted them from our daily scan (even if the price were lower, the product itself doesn't warrant the payment of any fee as far as we're concerned).
South African media businesses are presented with a local contextual environment that is quite different to the media conditions in other countries, which is exactly why media in this country needs to explore strategy creatively and with an open mind. There is certainly value in understanding some of the strategies and lessons from global learnings, but the proof is in the testing within the local market.
One thing however is very evident - local media brands leave a lot of room for improvement. Trying to get media consumers to pay for a commodity news or entertainment service is not going to cut it.
Get better, or get out.
Changes like this one, that happen in big, important systems, have a systemic knock-on affect and can significantly alter the conditions under which a business will need to operate in the future. Agile leaders take these 'scanning hits' and workshop them to better understand the threats and opportunities that they may create. Cherryflava editor, Jonathan Cherry, has extensive experience facilitating these workshop sessions with organisations; feel free to get in touch using the 'Contact' tab above, to arrange yours.
---
More: