South African corporates hit a wall
It's certainly not an easy time to be running a business in South Africa.
Even for the country's biggest companies times are really tough and it's showing in their results.
Publishing results this week, discount retailer Pepkor posted a 12% decrease in headline earnings per share for the six months to the end of March 2023, while inflation and the costs of loadshedding saw operating costs at Tiger Brands balloon, causing the share price to fall by 19%.
In general, reading the recent results coming out of JSE-listed companies doesn't make for very happy reading.
Companies are spending millions on fuel for generators and struggling to find and hold onto top talent in a marketplace that is seriously negatively affected by sky rocketing interest rates and a general tightening of belts.
Coupled with this is the unfortunate reality that SA corporates are not exactly hotbeds of innovation and agility. Commercialising new value is not exactly a strength of theirs.
These massive companies are set up to scale, not dance.
So when conditions turn against them, all they can really do is ride the storm out for as long as it takes. Part of that painful process will most certainly include downscaling of operations and staff retrenchments.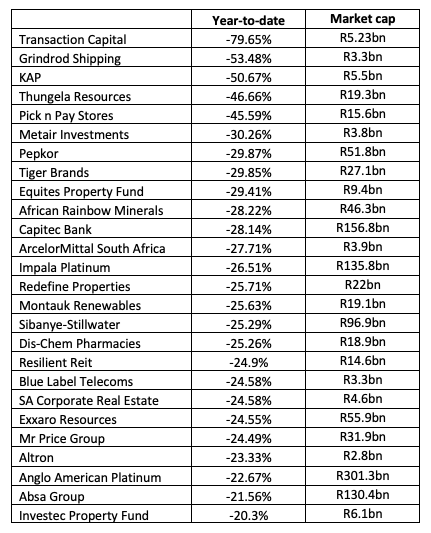 When you consider that the 1000 biggest companies (including government) in South Africa provide 56% of all jobs in South Africa - job losses in these big companies has a seriously negative knock-on effect for the economy.
What options are there?
Companies that have more options available to them right now are smaller organisations who have the agility and flexibility to strategically manoeuvre themselves to take advantage of the opportunities that current conditions offer.
Obviously a well-designed, carefully considered strategy is the key element to success. Ordinarily the odds are seriously stacked against smaller organisations in South Africa, but their nimbleness has become a significant strength that should be leveraged in heaps right now.
While the giants are struggling to maintain their bloated balance sheets this may just be the opportunity for innovators to go in and pick up a few of the falling pieces.
---
Just how 'challenging' the South African economy really is? Here's a selection of reading matter to peruse at your leisure: