Analysing LEGO's strategic play of 'Innovating play'
A strategist's take on Lego's critical strategy play in a tough trading environment.
LEGO released their financial results this week, which sadly for investors (to put it nicely) fell below market expectations.
To be fair to LEGO however the reason that their profits fell so dramatically in 2023 is really no fault of their own.
Faced with lower customer demand (partly as a result of a post-Covid lockdown renaissance of outside play) and radical competition from the likes of Mattel, 2023 was always going to be a tough year.
However, we're not that interested in the past here at Cherryflava; we're future-orientated around these parts and far more excited about what kind of strategy LEGO are choosing to drive the company forward.
In the most recent annual report there is a reasonable clue as to how they are planning to win in the competitive global toy marketplace.
Innovating play
Aside from the usual planning and improvement stuff that all big companies fill their reports with the key strategic pillar driving the LEGO brand is what they call 'Innovating play'.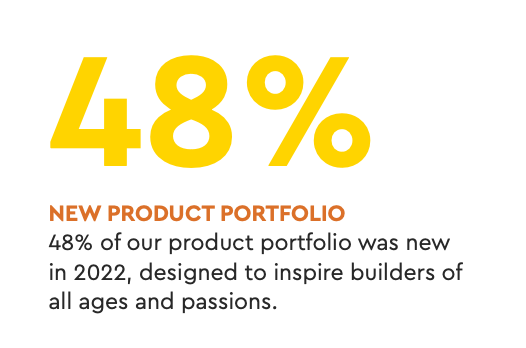 An astounding 48% of their entire toy portfolio is new.
What that means is that they are committed to constantly thinking up and creating new sets and products and actively killing the old ones off. Rather than relying on their 'best hits' to keep them going; they put faith in innovation to bring home the bacon.
That shows a lot of confidence in their ability to create new commercially successful product.
Even if they didn't hit it out of the park this time around, they have fostered the inherent capability internally and within their product teams to turn things around quickly just because of this system of innovation.
That's a powerful position to be in.
Partners and digital
Their product innovation leverages strategic partnerships (with brands like Epic Games, Harry Potter and Star Wars) and adding digital integrations into the physical toy play to create even more variety in the product experience.
These digital layers are however not just adding an app here and there or other more obvious digital elements. Part of what makes this company so creative is how they explore new and varied ways to create something new just by experimenting with different combinations of ideas.
EXAMPLE: The LEGO Insect Collection
Here's an example of how LEGO have included SFX into their new Insect Collection, which is then made available on their website as a soundbite.
Improving representation in marketing and products
Yes ESG is also important for LEGO, but that mindset extends to their toys too.
Aiming to build the brand with children from all-walks-of-life LEGO have tried to improve the diversity of the characters represented in their toys.

We have made a commitment to improve representation and remove gender stereotypes from our portfolio and marketing activity. And we are making progress. Over the past year we have introduced differently abled characters into our LEGO sets including wheelchair users, characters who are visually or hearing impaired and those with physical differences such as vitiligo or a cleft palate.
Our LEGO Friends range was reimagined in 2022 to celebrate the diversity and optimism of today's children and what they want from friendships. The theme features a wide range of characters from different ethnic and cultural backgrounds and with different abilities, showing our young builders nothing can stop them achieving their dreams.
The takeout
What we find so interesting about the LEGO strategy is that it is far more conservative than that chosen by Mattel.
Perhaps this is the difference between a European brand and an American brand competing in the same industry.
Mattel are essentially going all-in on a highly-focused gamble.
LEGO on the other hand are playing their cards very close to their chest.
Their approach is just to keep on focusing on what they can control; product-innovation and their owned route-to-market footprint.
With an extremely strong brand, a leading team of talented individuals and a legacy that goes back to the 1930s, I wouldn't underestimate LEGO even if the prevailing financial news flow is negative.
This is however an interesting example of how culture most certainly has a strong influence on strategy, which is why it's such a tricky thing to fix if broken.
If you found this post useful, please subscribe of our newsletter (which is free) and consider forwarding on this post to your network.
---
More: