How the Shoprite Group is reinventing itself for the future
The Group's latest financial results show that they have grown sales by 10% and profits by more than 25%
Ten years ago you would not have called The Shoprite Group 'innovative'. Hell no!
Africa's biggest supermarket business? - "Yes".
South Africa's #1 non-state employer (with now nearly 130 000 staff members)? - "Yes".
Future-fit and leading the market in strategic transformation? - "No".
What changed?
Back in 2017, Pieter Engelbrecht took over from Whitey Basson as CEO of the Shoprite Group, who back then chose Joseph Brönn to lead as the Chief Business Officer; Brönn's strategic mandate was to personally drive new projects in IT, data management and sustainability for the group.
Under their leadership, the Group repositioned the business' mission to to be 'Africa's most affordable, accessible and innovative retailer', and set about making that idea a reality.
What's the strategy?
The specific strategy that Shoprite adopted is a very clever one for a big retailer.
In a nutshell, they have purposefully elected to innovate the business by pursuing what is best described as a 'duel transformation'.
Duel transformations happen when the core business is incrementally improved over time (improving efficiencies and profitability); while at the same time riskier, new innovations and models are created and brought to market by dedicated, but separate business units, and allowed the space to find their own footing in the marketplace.
In Shoprite's case, a lot of their cutting-edge innovations that they bring to market are being produced by a separate strategic business unit called ShopriteX - which is run under the very capable guidance of Neil Schreuder, Chief Strategy Officer of the Shoprite Group.
It's clever because in big businesses a lot of innovation is killed early because it is seen as a threat to the ongoing success of the core business. Pull it purposefully out of the core business and you give fledgling ideas a chance to develop without the corporate immune system hunting them down and snuffing them out.
At the root of the strateg, Shoprite have 9 key strategic drivers for the business - 3 focused on the long-term future [7,8 & 9], 3 focused on improving the core [4,5 & 6],  and 3 dedicated to medium-term innovations [1,2 & 3].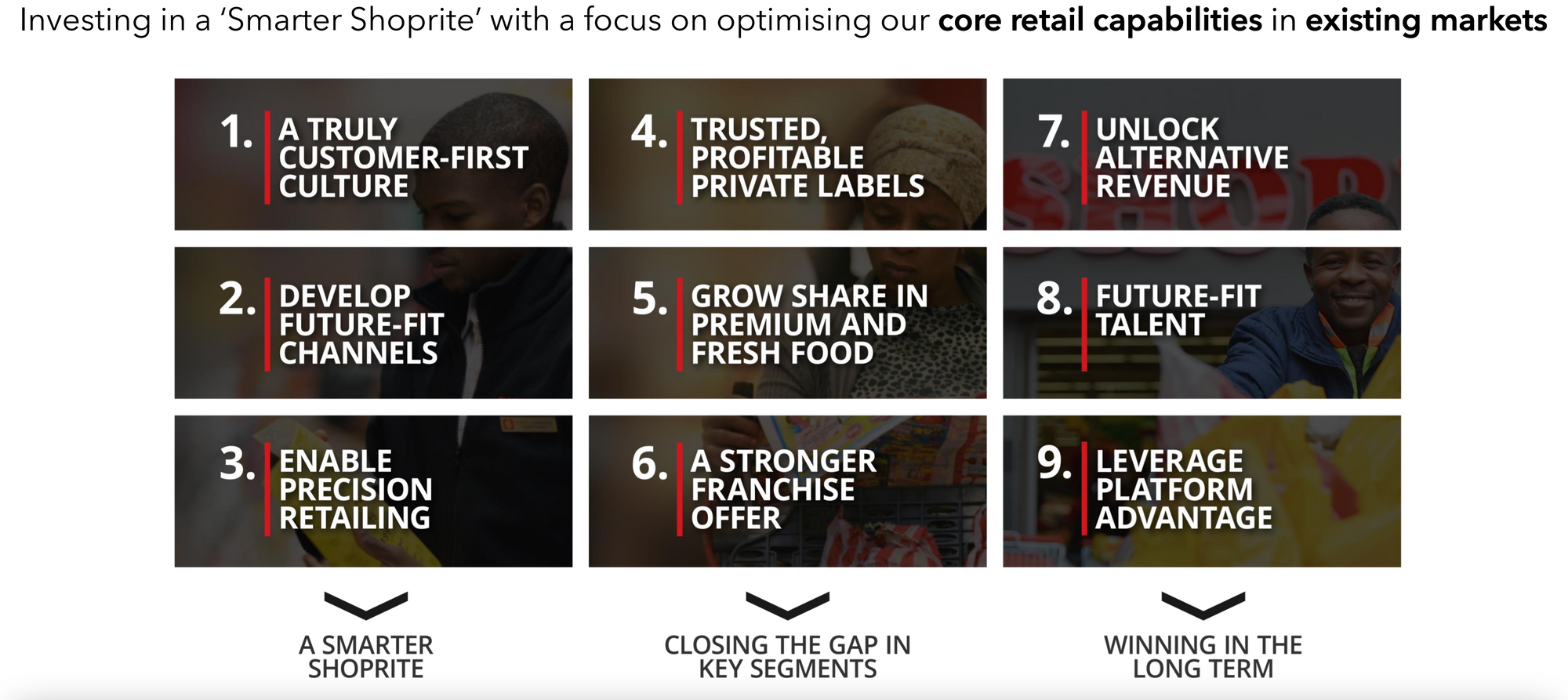 Essentially with these 9 strategic drivers the idea is to (1) get much closer to the customer through the use of analytics and data to better anticipate needs in the marketplace and build long-term relationships, (2) take marketshare away from their competitors, (3) leverage their scale and platform to maximise margin through innovation and new business models.
They call it building a 'smarter Shoprite' - what it comes down to is pursuing a connected strategy  that is focused on acquiring new customers from their competitors, monetising them effectively and keeping those relationships going for longer.
While every other supermarket group is staring at historical and blunt metrics like gross profit, revenue and sell-through rates, Shoprite are tracking CAC, RFM and CLV.
What are the key projects?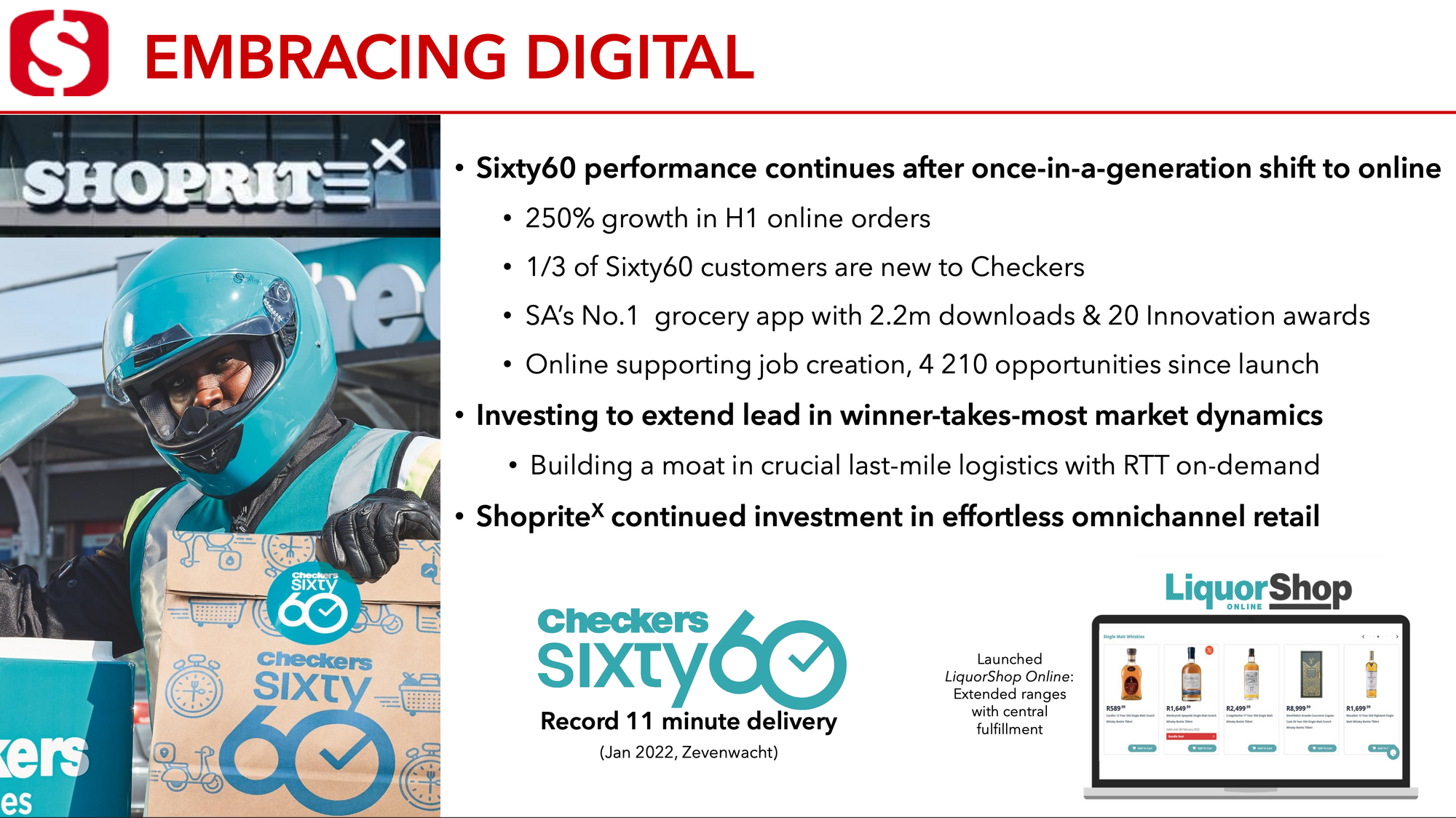 Sixty60
We don't know too many people who haven't become massive fans of the Checkers Sixty60 service.
Not only is the technology and UX of the app world-class, but Shoprite have got the overall experience of online grocery delivery right. In comparison to comparable digital offerings by Pick n Pay and Woolworths, the Checkers app is streets ahead.
What that means is that Checkers are suddenly now taking customers away from their competitors...and keeping them. This must be a worrying headache for the likes of Woolies who can ill-afford to lose affluent grocery buying customers (not a lot is going right for Woolies outside of their food category) to another supermarket group.
It's not that Shoprite's competitors don't have access to the same tools to connect with customers in this way - it's that Shoprite appear to be the only ones that really 'get it'.
They sweat the small stuff and actually seem to have some notable competence in the digital space. They have clearly hired some good people and have chosen to get out of their way so that they can get on with things.
The group are setting the benchmark in the digital space and everyone else just appears to be proving their own lack of agility in the space.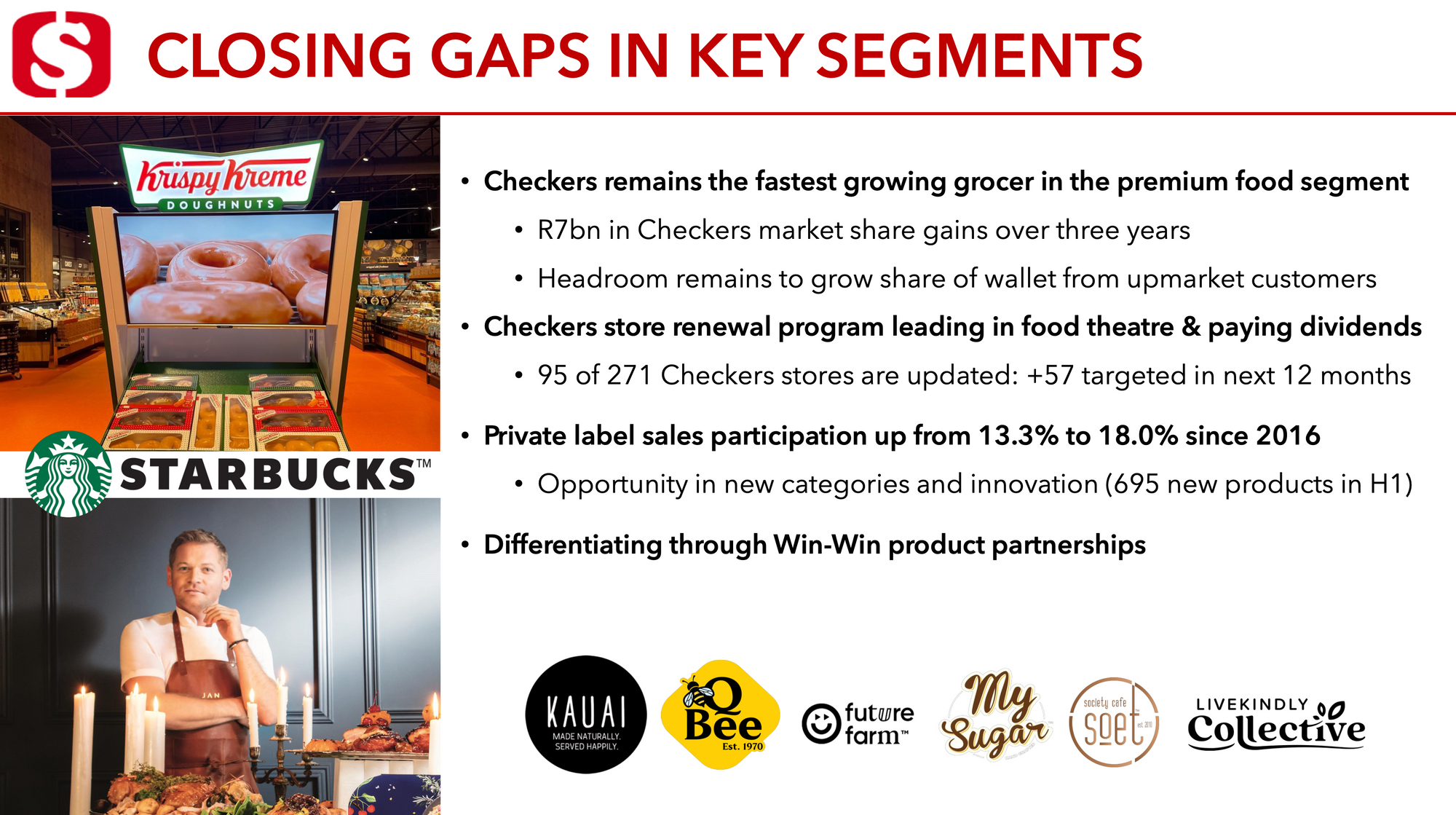 An ecosystem of partnerships
Apart from a dramatic increase in the prevalence of their own brand labels, which unlocks higher margins for the group, Shoprite have also signed some very clever partnership deals with luxury consumer brands like Starbucks, Kauai and Krispy Kreme; brands that attract the market that they are trying to steal from their competitors.
Even though these brands are just partners, in combination with their supermarket platforms, they are creating a cost-effective brand differentiator by simply building a relationship with other category leaders.
Without making a huge song and dance about it the group have strategically redefined what business they are in.
They no longer appear to classify themselves as a supermarket, but rather a community platform and ecosystem on which they can create compelling retail experiences and offerings that draw a desirable buying audience.
Instead of trying to own every part of the ecosystem, they're creating the conditions under which the right kind of people will be attracted to what they have to offer.
This open, multiplier effect is in sharp contrast to how most business is conducted in South Africa - so clearly somebody has done a significant amount of lateral thinking over there, challenging their own assumptions as to how best to build a future-focused supermarket business.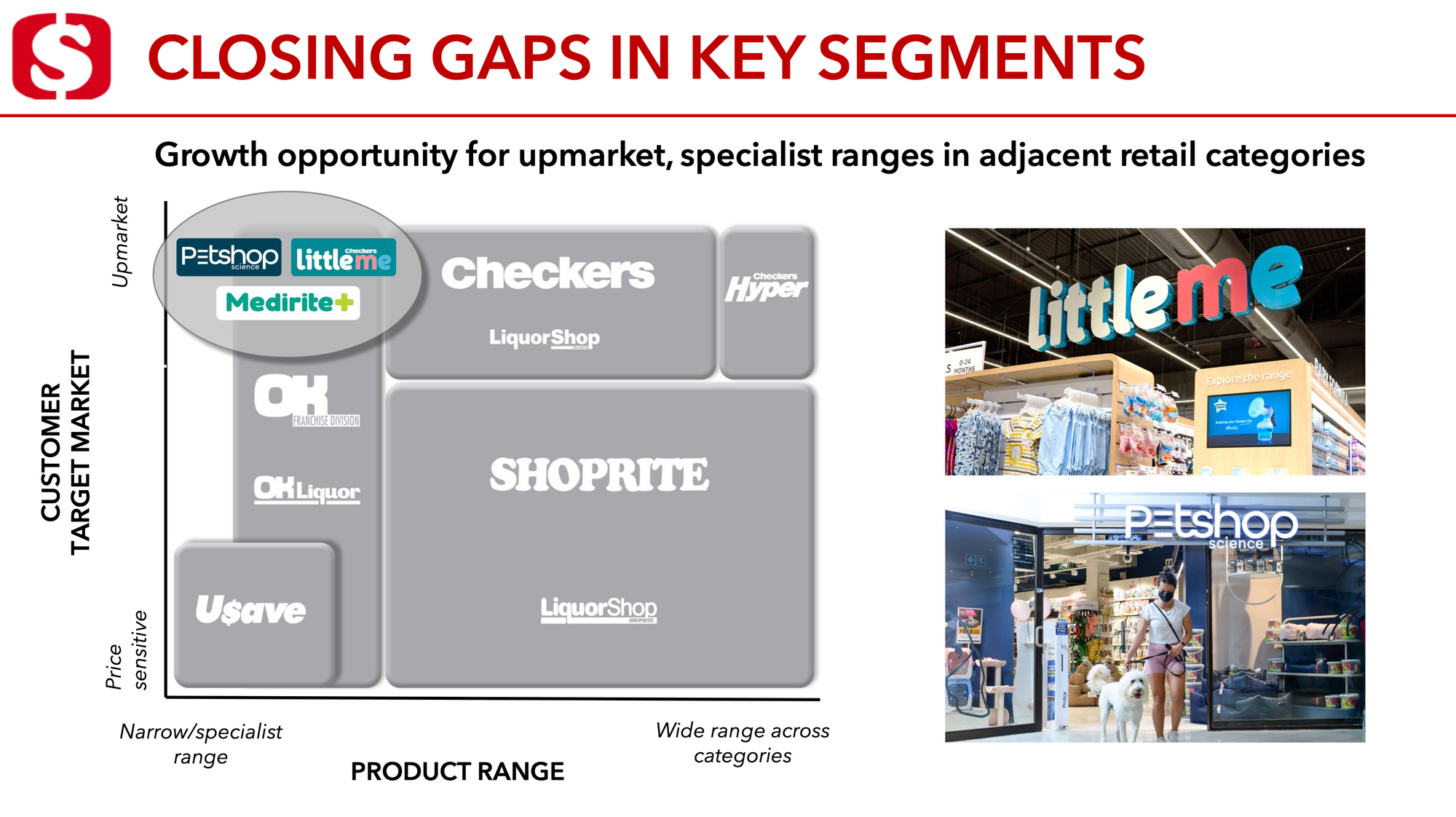 Brand extensions complete the portfolio
Where there are gaps, the Group have created different brands to service an upmarket audience outside of groceries. Instead of diluting the brand equity that they have built up in 'the core business', they are effectively creating niche category sub-brands to fill in the gaps that they see.
Even though the business volume of these ventures may be very small in comparison to the scale of their primary business operations, it's a move that is forecast to pay good dividends in the future.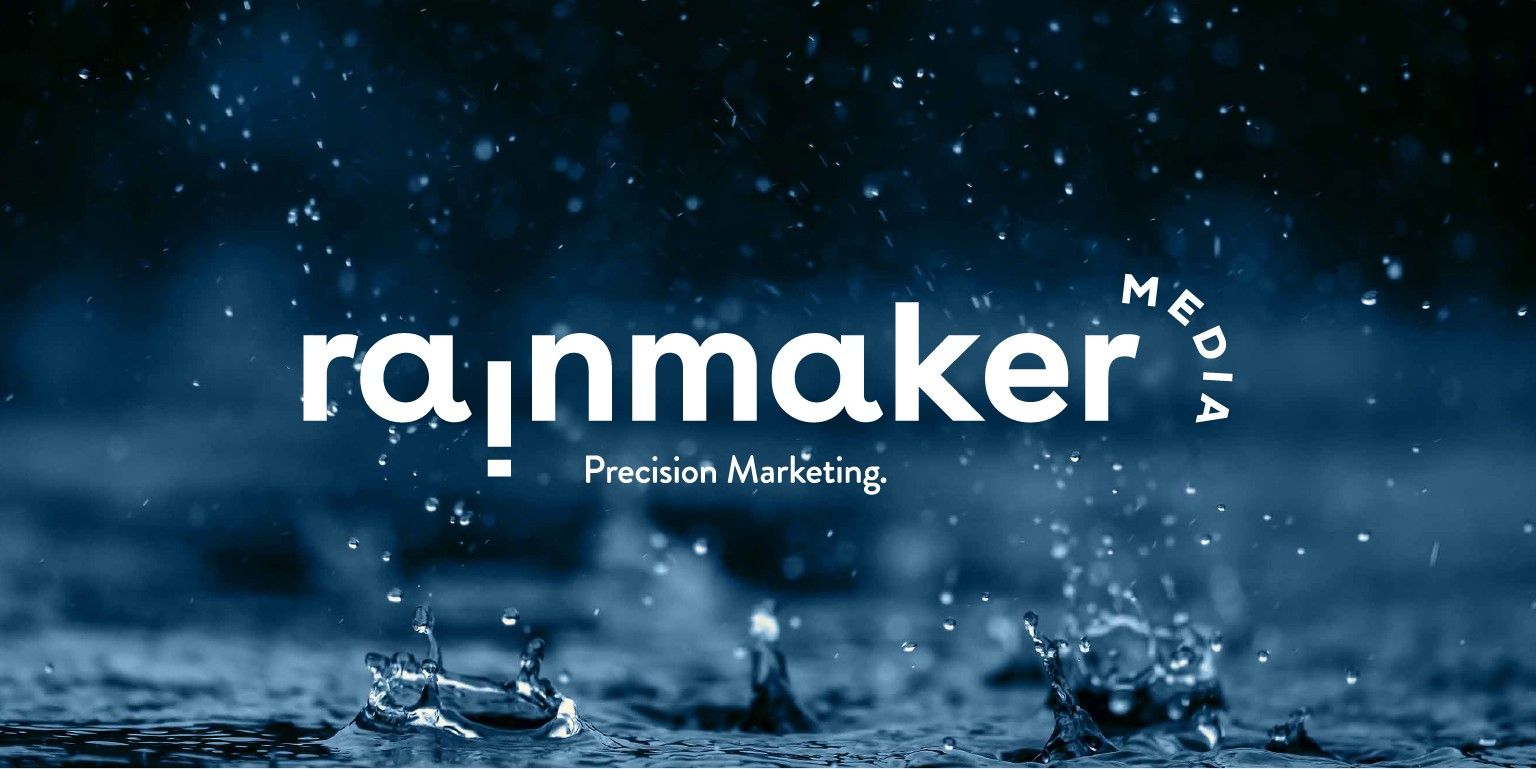 Leveraging their vast data platform
Probably the smartest thing they have done is to create a new business venture called Rainmaker.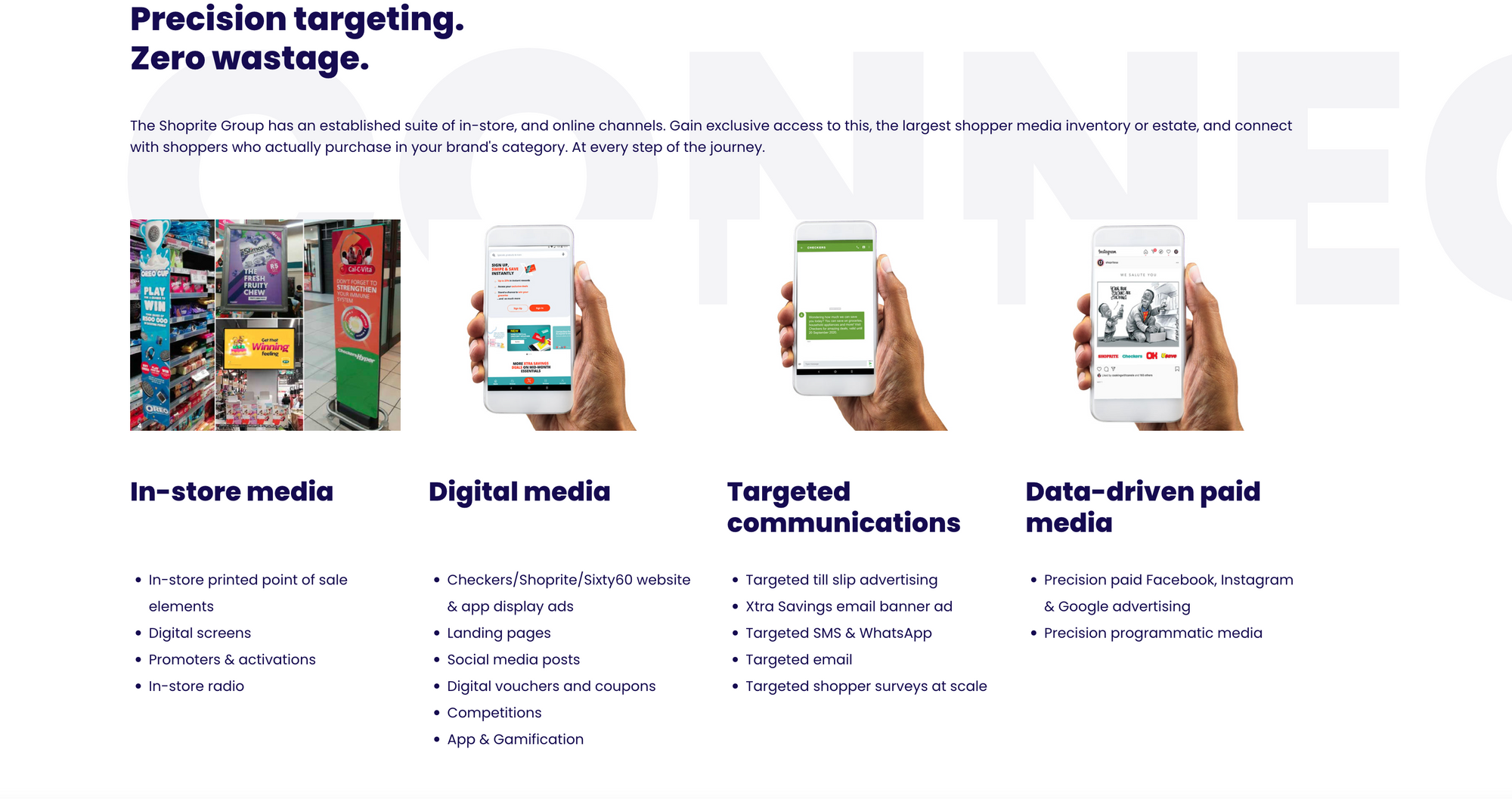 Rainmaker is a digital marketing agency that creates strategies for brands who want to leverage the scale of the Shoprite physical and digital platform assets to improve the accuracy and performance of their sales.
For a fee, the Group are able to promote, analyse, measure and improve the sales performance of brands and products that sign up for the service.
By leveraging the customer insights that they generate from their operations, they are able to create additional revenue streams outside of their core supermarket operations as well as differentiate themselves as a holistic digital business, rather than just a retailer with shelves to fill.
Tactical digital marketing
Shoprite / Checker's investment in innovation has also given them something else besides new customers and new revenue streams; a fresh creative license.
As a traditional supermarket group, your promotional budgets are mainly adsorbed by the hard-nose reality of product promotion done through newspaper broadsheets and in-store point of sale. The Sixty60 app allows the Checkers brand to have a bit more fun with the brand and gives the group more freedom to build personality around their strategic assets.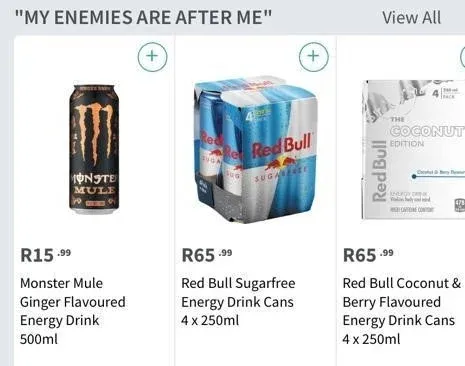 Here's an example; when everyone was watching the Tinder Swindler on Netflix - their Sixty60 agency responded with this tactical execution...
They hired legendary Cape Town film and content creator Dan Mace to make this Christmas ad last year...
Real transformations show up in a change in tone of a company's advertising.
Confident businesses take more risks, have more fun - and it shows in the kind of work they select for the advertising.
The result?
In the latest Deloitte Powers of Retailing 2022 report, Shoprite are listed at #100 on the chart (well ahead of their local competitors).
The Group's latest financial results show that they have grown sales by 10% and profits by more than 25%; under extremely tough trading conditions, this is a remarkable performance.
Stellar short-term financial results aside, the innovation projects that the business has taken on since 2018 have yet to really translate into a financial return - so the best is yet to come from these initiatives.
What to take from this?
What this case study shows is true customer-centricity in action.
As we've said many times before in keynote presentations, with clients and on this website is that many companies will tell you that they are customer-centric, but very few really understand what that term even means; and few actually apply a customer-centric mindset to their strategic transformation.
Here's a case where innovation isn't just bought in through acquisition, but is the key-focus of an organisation that trusts in its own ability to create the future that they want.
What is clear is that in the last couple of years, this business has seriously questioned the very essence of who they are, and have obviously redefined what business they are in.
A different kind of thinking has emerged; a style of problem-solving that is not typical of a business that sees themselves as a retailer only.
Lots of companies make excuses about their legacy systems or an entrenched culture that can't be changed, here Africa's biggest retailer is recognising their own agency to change and doing it quickly and well.
This is a well-constructed strategy and has the commitment of top management, implemented effectively.
Nice work all round.
---