Ghost kitchens + virtual brands
Old lockdown habits die hard.
Two years ago we posted about the rising emergence of ghost kitchens - a delivery- only meal preparation business, which was very interesting at the time; because we were deep in the dark heart of consecutive lockdowns ,and heading out to a fine-dining establishment to sip chilled Chardonnay and nosh on seared hangar steak seemed like a nice dream that would never be physically realised ever again.
Well - it's worth having another look at the ghost kitchen model, even as we emerge from our isolation-hell, because as it turns out - old lockdown habits die hard.
Pandemic changes are here to stay
Some people have actually now officially decided that eating restaurant food at home, while beating your Fortnite opponents with a club, is far better than going out to a restaurant and talking about 'whose still employed' and 'whose going to be having a baby even though they're not too sure who the father is' with people that they honestly have never liked talking to in any case.
Since our last ghost kitchen post, the phenomenon has now been joined by another interesting trend that, in our minds at least, has created a formidable new hospitality category that didn't exist before the pandemic.
Ghost kitchens + virtual brands is the combination of a decentralised food preparation network with the marketing power of scalable and compelling modern brands.
Virtual Dining Concepts is one such company that have curated an appealing portfolio of virtual brands / restaurant concepts that are then paired with selected / participating ghost kitchens to create a quickly scalable franchised network of virtual restaurants. Laced together with delivery partners and technology, this model presents a brand new hospitality opportunity that really does leverage the increasingly entrenched 'stay at home' mindset.
Their lineup of brands includes TikTok Kitchen, Mariah Carey's Cookies and the recently launched Mr Beast Burger:
With no physical restaurant, no staff, no fires to put out, no rude hostess that you need to fire - the margins for this kind of restaurant are very good.
The forecast growth is also pretty reasonable - Euromonitor International estimates 'that by 2030, food delivery could account for up to a third of consumers' $3 trillion food spend globally. That includes roughly 50% of drive-thru business, or $75 billion, and 50% of takeout, or $250 billion. It will also take share from frozen meals (35%),  packaged cooking ingredients (30%), dine-in (25%) and packaged snacks (15%).'
Virtual Dining Concepts have taken it a step further by collaborating with pop culture celebrities to massively scale and amplify the market appeal of their offerings.
Their latest partnership is with selected TikTok stars.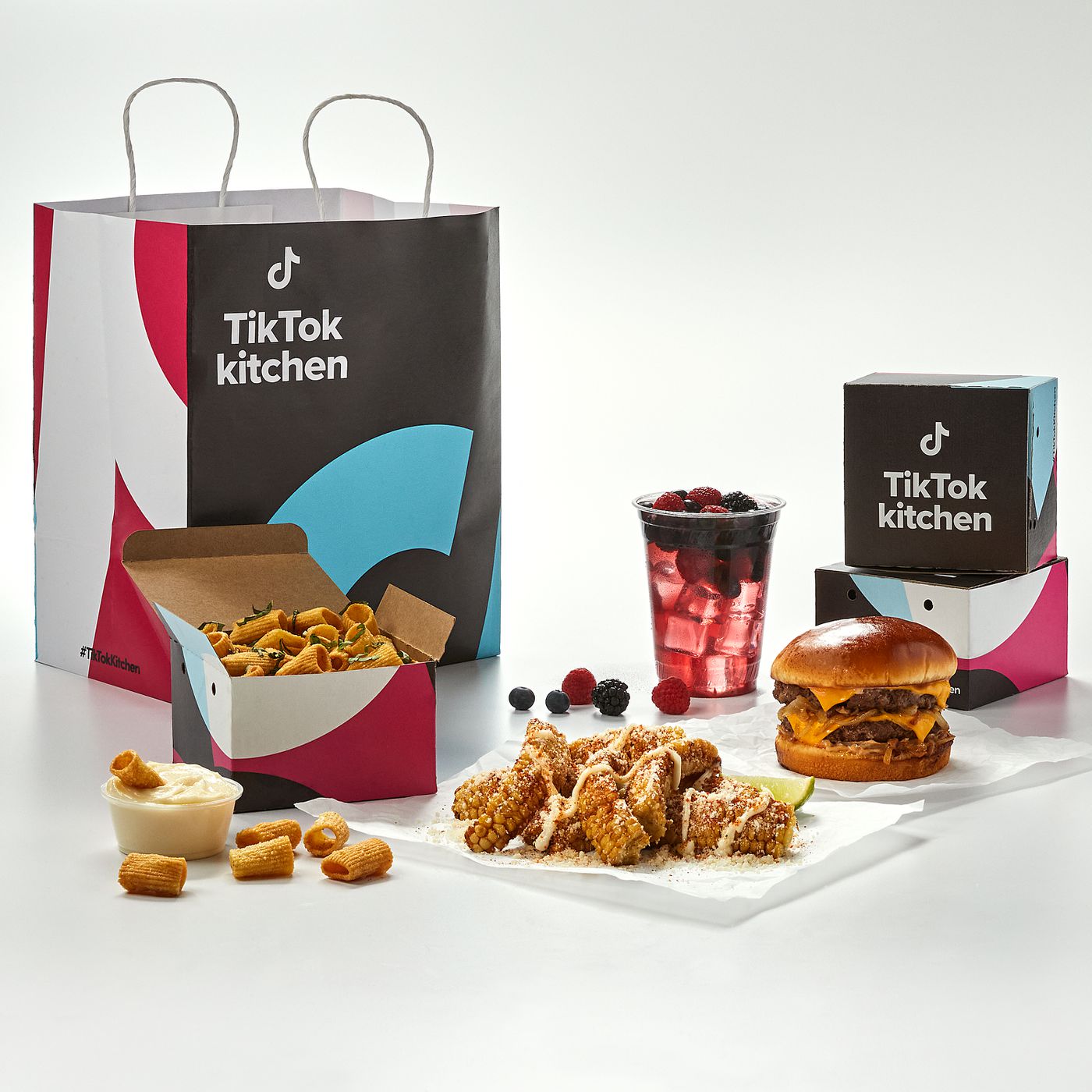 'With TikTok Kitchen, Earl and Virtual Dining Concepts (which he co-founded) will partner with TikTok stars as they go viral for food-related content to make the TikTokers' recipes exist on a real menu.'
'TikTok, a social media app with over 1 billion users, provides a space for creators to post recipes, food hacks and more.'
A new hospitality eco-system
If there is one thing we can all hopefully take away from the experience of enduring a global pandemic it's that things work so much better when we collaborate, work together towards a common goal and share the load.
By forming relevant partnerships a brand new industry has emerged that will no doubt continue to evolve, refine and create a lot more opportunity.
Expect to see new virtual restaurants brands popping up in the future as well as individuals and existing brands taking - perhaps unexpectedly - to the hospitality industry.
---