#BookTok: How teenagers are revolutionising book publishing
Reading physical books is enjoying a very strong revival amongst the youth these days.
It's easy to assume that some things in life (things that older folk tend to like) are dying.
Opera, classical music and reading books are just a few traditional past times that one can easily believe carries little relevance for young people these days.
Well - at least with one of the old-school activities offered here - you would be very wrong.
Reading books is enjoying a very strong revival amongst the youth these days - in part it's a renaissance driven largely by TikTok, and a tag that now has 57 billion views called #booktok.
The tag largely centres around YA fiction, although there is a sizeable Harry Potter community for the skinny jean-wearing millennials among us. Taking in dystopian franchises, romance novels and period adventure series, the video trends include creators discussing plot points and character developments and even calling out authors for misrepresenting minority groups. A-level English it is not. And if you've ever struggled to know what to read next, BookTok's dramatically named reading lists vary from "books that had me sobbing at 3 am" to "books I would sell my soul to read again".
Sparked apparently by the pandemic and the delightful lockdowns that we all so patiently endured, young people got tired of watching nonsense on Netflix and picked up their grandmother's copy of Wuthering Heights to pass the time instead.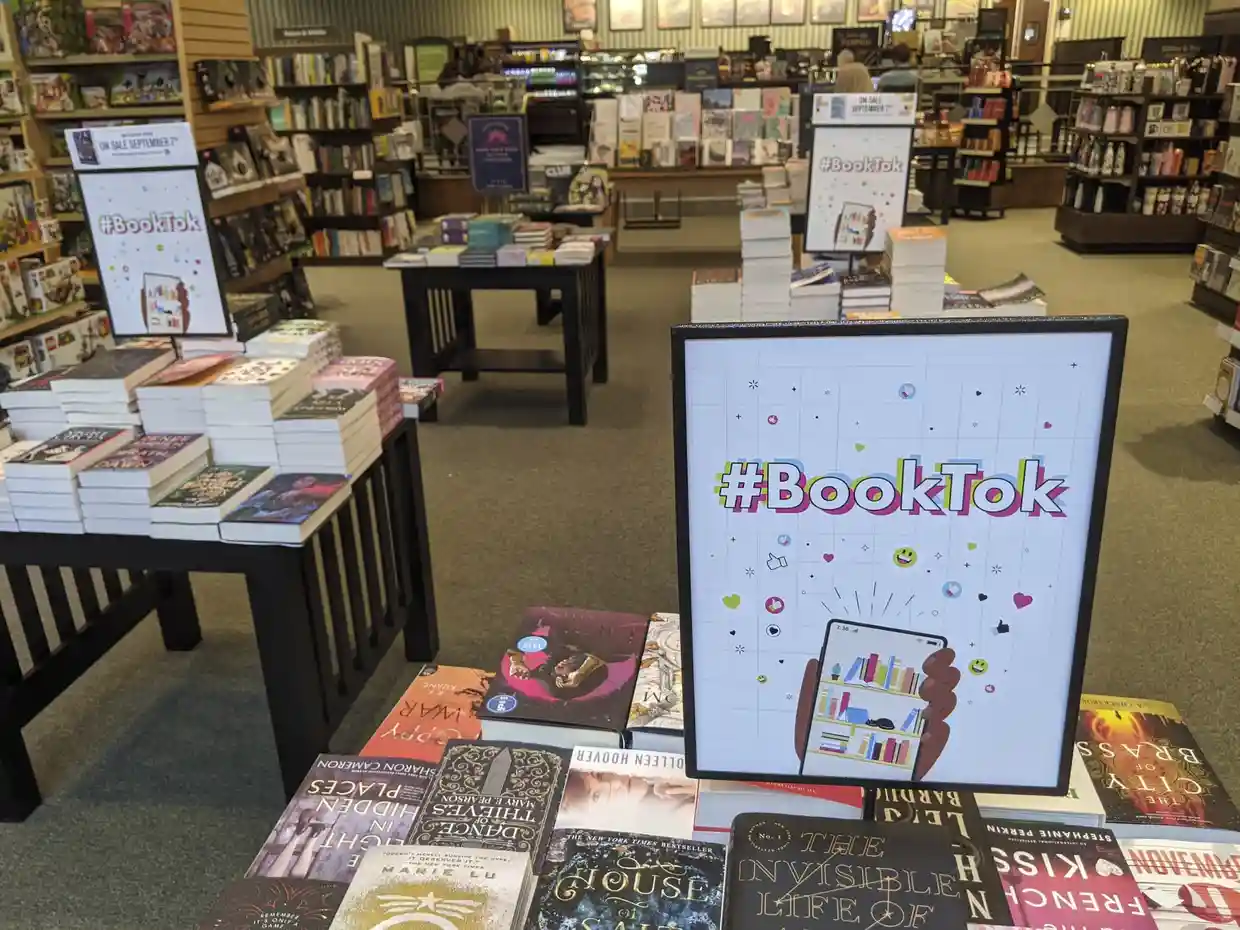 Some readers shared their thoughts on the books that they read of  TikTok and before anyone realised it - the book reading phenomenon went global.
"At the beginning, when you first join, there are definitely six to 10 books that everyone speaks about," she says. "The more popular books tend to be quite straight and quite white. And so I think the biggest movement within the community is being like: 'Hey, have you never seen yourself represented? Here are books that are going to represent you.' I'm bisexual, and when I first joined, I only ever read books about straight couples. So finding these books that I saw myself reflected in was life-changing." She cites in particular Claire Legrand's Empirium trilogy, some of the first books she read with a bisexual protagonist. - via
Unlike most of the Internet these days, #booktok is far more of a positive place for communities to share their personal experiences of the books they enjoy.
For many users, this wholesome atmosphere was a massive incentive to join the community. "I created my book account because I was longing to find a connection with people about something I am super passionate about," says Luz, a 20-year-old BookTok creator from Louisiana. "None of my close friends read in their spare time so I took it upon myself to ignore my social anxiety and create an account where I could finally talk about the books that have changed my life," she explains. For other creators, BookTok has acted as a platform to call for progress in the literary world, a place where they are able to push for the inclusion and development of young queer characters. "I like to think that people follow me due to our shared goal of diversifying books," says 16-year-old Faye, who regularly creates LGBTQ+ content.
How has this blooming trend affected the book publishing industry you may be asking?
A decade ago, the narrative of bookselling was of the surging popularity of digital book sales, with physical editions left on the shelf.
Figures from the Publishers' Association in 2012 saw digital book sales shoot up 54 per cent while physical book sales dipped five per cent.
Fast forward to 2021 and UK publishing sales have hit a new industry high to £6.7bn, with physical book sales leading the way.
Chief executive of the Publishers Association Stephen Lotinga cited the wild growth of TikTok communities as the beating heart of fiction and Young Adult title sales, driving much of the industry's growth.
What has been particularly interesting is publishers' grand embrace of TikTok as a main form of marketing: pumping budgets into BookTokkers when they would have traditionally funded book tours or expensive store launches. - via
Parents will no doubt be very relived to find out that reading is all the rage once again.
Those same parents BTW (at the same age as their kids are now) back in the day were listening to Nirvana, smoking Peter Stuyvesant behind the squash courts and didn't give a damn about the benefits of reading.
So the question is - has the pandemic somehow created a traditionalist youth culture in 2022 that is akin to the youth of The Silent Generation (those born between 1928 and 1945) - a cohort of kids who grew up under conditions of extreme political, economic and social uncertainty?
---