Jonathan Cherry has been consulting with clients for the past 15 years, helping teams and organisations innovate and build future-fit brands and businesses.
Change is happening at an accelerating pace, it is vital for organisations to be agile enough to keep pace with this change and develop the ability to create better futures in response.
These are the services offered:
Innovation advisory
Knowing where and how to invest capital into new innovations for your organisation is a process that requires specific expertise and experience.
I work with a number of clients to optimise their current customer experience design, operational systems, as well as to advise them on how to transition aspects of their business models to be better suited to leverage medium to long-term future opportunities.
I advise clients on technology and digitisation strategies that are suited to their specific requirements that are focused on delivering the carefully-considered future vision of the organisation.
Research & scanning
Knowing where your business should focus its resources as a part of your strategic intent to develop new innovations and solutions that are fit-for-purpose in the future, requires great research and professional insights.
I work with clients in an advisory capacity and produce custom reports and presentations for business that are informed by scientific rigour, but also have real actionable insights that have proven very profitable for my clients over the years.
With a background in delivering insights in unique and memorable ways for clients like Dimension Data, the UCT Graduate School of Business and Santam my focus lies in shifting organisational thinking through effective research and memorable presentations.
Culture design
Strategy needs to be leveraged by the right kind of organisational culture.
Over many years I have consulted with numerous leadership teams and organisations to design and mould the right kind of company culture to ensure the successful actioning of the desired strategy.
Businesses are run by people, but often the people element is completely overlooked and the change initiatives that are undertaken, fail.  
From company-wide values projects for Santam to monthly on-boarding workshops and curiosity-building for Yuppiechef - culture design goes hand-in-hand with innovation and strategic planning.
Leadership coaching
Navigating the road ahead in this time of complexity and uncertainty is not an easy task to do alone.
I work closely with a number of CEOs, CMOs and leadership teams; offering them the perspective of a qualified and experienced futurist to manage their daily transitional plans, but with the long-term sustainability of the organisation at heart.
Strategy consulting
For the past 15 years I've worked with organisations to answer the questions of; 'What's going on?", 'So what?' and 'Now what?' - which determined their business and innovation strategies.
I work collaboratively with organisations and teams to facilitate thinking and bring in logical processes and frameworks to compile actionable plans that deliver results.
I'm currently offering scenario planning workshops for clients located anywhere in the world via an online interface.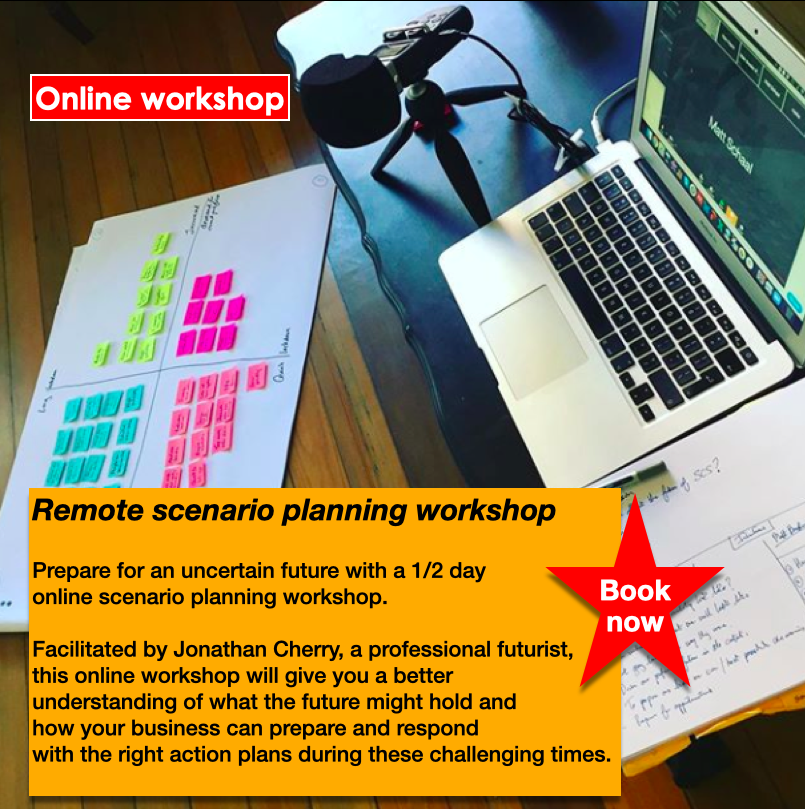 Innovation training
I train teams to use the tools of innovation for themselves and facilitate sessions with groups to unlock brand new thinking that solves real business problems.
From practical systems thinking for management teams to scenario planning for better risk assessment - I work closely with people to help them apply the academic theory to real business challenges.
---
Let's chat
Please get in touch to enquire about availability, cost estimates and bookings.