Facilitated Scenario Planning Workshops

One of the best tools for managing uncertainty is scenario planning.
When facing uncertainty in the future one of the best ways to explore your options is through a structured process of scenario planning.
The future of obviously not predictable and in many cases, attempting to offer a prediction of one future can be very risky, because it leaves you vulnerable to surprise when your expected future reality does not materialise.
Scenario planning takes you into the possible, probable and preferable futures that are available. They describe a world that is yet to come and may also be used to explore a possible future which is unimaginable and surprising.  
Proper scenario planning is an exercise in exploration of the unknown - that ultimately offers concrete options as a result, but also a broadened mental capacity for greater resilience and agility.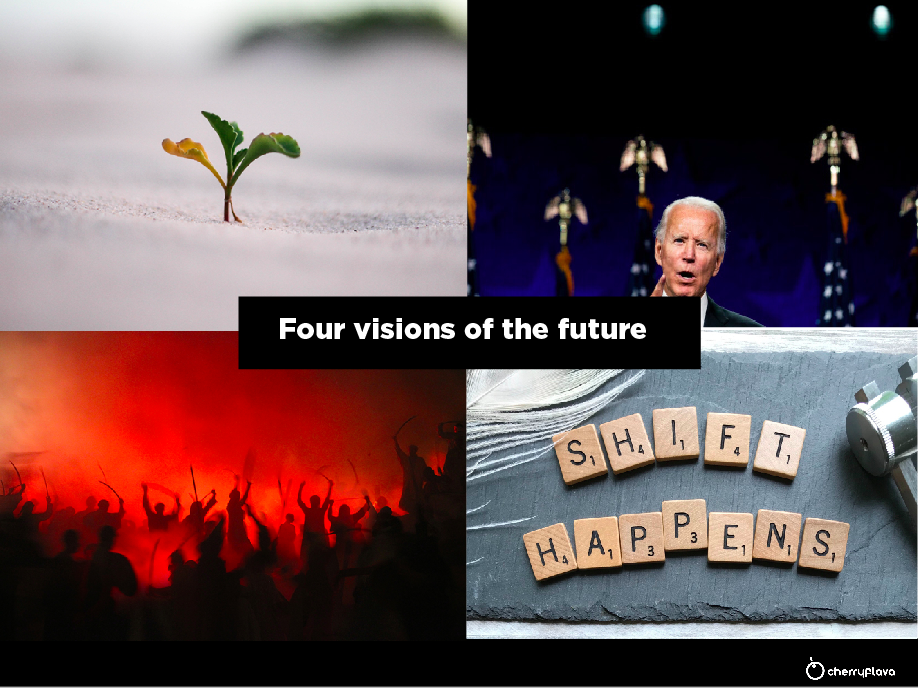 The value of scenario planning
Scenario planning - done in combination with good environmental scanning - offers management a clear understanding of how long-term change and sudden trend-breaks can impact an organisation.
This process improves long-term organisational decision-making as well augmenting foresight capabilities of leadership, for better capacity and capital resource allocation.
Hosted by Jonathan Cherry
The facilitated scenario planning workshop is hosted by Jonathan Cherry - a professional futurist with an MPhil in Futures Studies [Cum Laude] from the University of Stellenbosch Business School and an active member of the Association of Professional Futurists [APF].
Enquire now
Please get in touch with us to chat about booking a scenario planning workshop.

---
About Cherryflava
Cherryflava Media and Cherryflava.com have been actively researching and publishing business and consumer trends since 2004.
We offer futures research and guidance on the practical application of this knowledge, not as side hustle, or as a small sub-division within a much bigger consulting firm; it's the only thing that we do.
We live and breathe futures thinking everyday.
We have hosted panel discussions and given hundreds of keynote presentations, based on our foresight methodology that informs our scanning process and knowledge generation, to blue-chip South African clients that have included:
Famous Brands, Woolworths, Sanlam, Santam, The Western Cape Government, University of Cape Town [UCT], University of the Western Cape, The Association of Risk Managers, Wines of South Africa, Investec.
Our forecasting insights have been featured on major media platforms:
702, eNCA, EWN, CapeTalk, RSG andThe Sunday Times - as well as numerous other independent media channels and podcasts.
Tune into our weekly business innovation and marketing radio feature every Tuesday on CapeTalk with Kieno Kammies.