The Cherryflava Monthly Strategic Futures Briefing

At this time of unprecedented change and uncertainty, organisations need to be dedicated to developing an active curiosity of the future.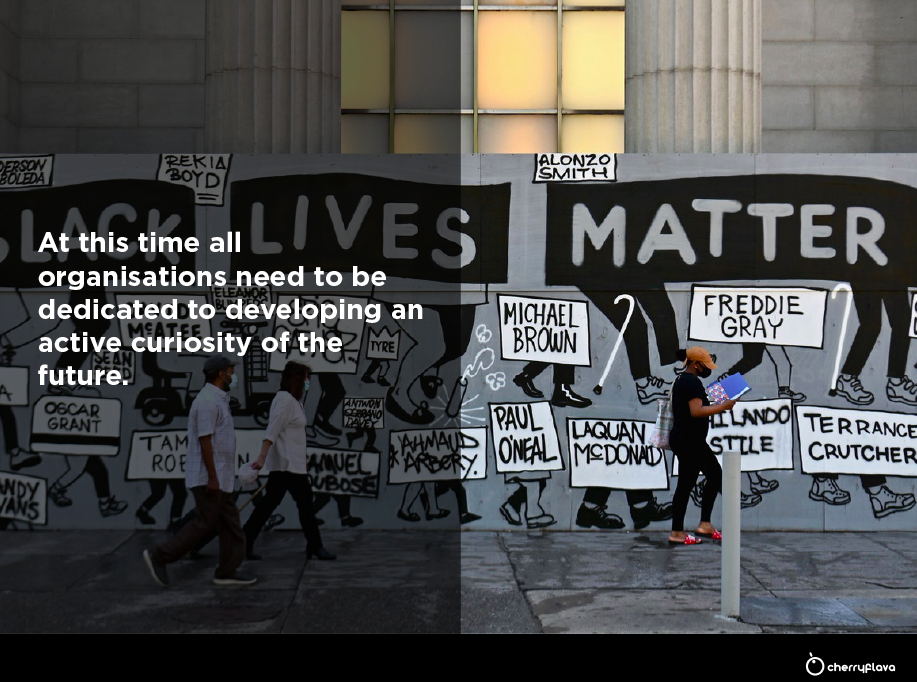 The future is uncertain, there is no way that you can predict what is going to happen. What you can do however is gather evidence about the future and use this information to inform your strategic approach. [Facilitated scenario planning is an excellent way of doing this].
The logic here is fairly straightforward, organisations that are committed to learning and creating new practical knowledge about the future; improve their thinking, behaviour and performance, which produces better business results.
Better business through the building of strategic futures thinking capabilities in your organisation.
One of the best ways to improve strategic futures thinking is through structured and continuous scanning for weak signals of change in the contextual environment and developing an understanding of how those changes might unfold into the future.
Futures thinking and strategic foresight is an organised and systematic process through which to engage with uncertainty regarding the future.
This process of scanning, and the information that the practice delivers, is a critical component of strategic planning, because it is the vital research that offers organisations important signals about key factors of change that could have a significant direct and indirect impact on your business and your industry in the future.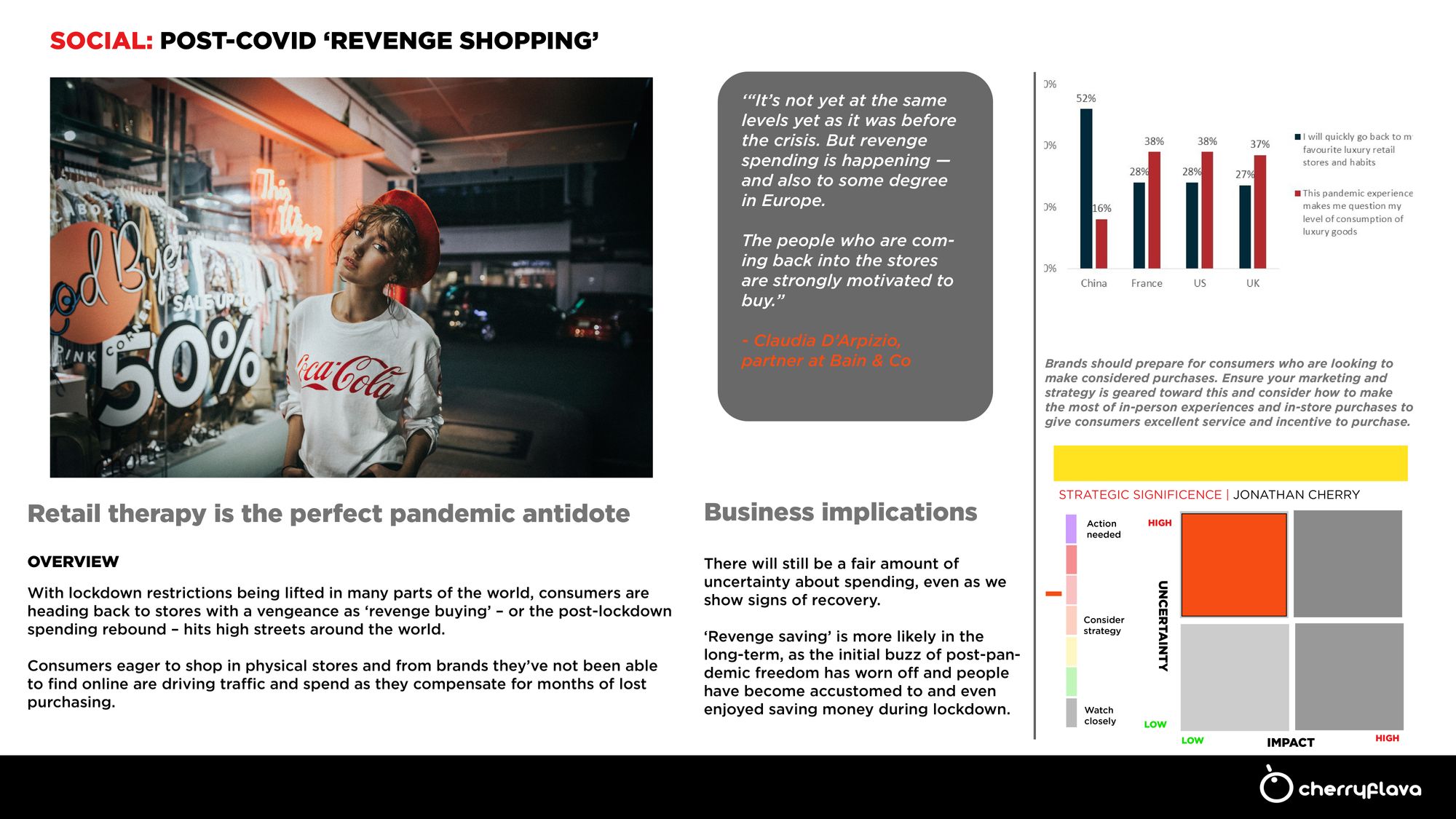 If done consistently it is also a pivotal element in creating a higher level of futures consciousness;  vital when it comes to developing organisational resilience and a forward-thinking mindset that seeks out new and emerging opportunities and embraces innovation. ‌‌
What value does this kind of research offer business?
Strategic futures research is used to create and sustain a variety of high-quality forward views and to apply the these insights in organisationally useful ways; for example, to detect adverse conditions, guide policy, shape strategy; to explore and understand new markets, customers, products and services.
The practice facilitates better, more open strategic dialogue within organisations, encouraging the sharing of a diversity of perspectives and fostering conditions for structured organisational learning and resilience during times of radical change.
The problem
However, one of the major problems with this kind of research is that there is a lot of it out there, it is usually packaged in a lengthy written report, which people don't have the time to read and it's presented in a very academic format with often little relevance to business.
Not too many businesses employ a full-time, in-house professional futurist who is dedicated to scanning a broad spectrum of quality sources for relevant signals of change and curating this vast portfolio of information into relevant, practical business intelligence.
Introducing a curated, live-via-online video, relevant, regular presentation once a month
The Cherryflava Monthly Strategic Futures Briefing is a monthly, 1 hour-long, live, online video presentation by professional futurist and editor of Cherryflava, Jonathan Cherry - offering a compelling, insightful business intelligence package to key members of your organisation.
As a completely independent futures resource, our unique perspective is focused on spotting opportunities and risks that are entirely business-focused.
The Cherryflava Monthly Strategic Futures Briefing looks at key changes in the consumer environment, regulation, key developments in the world of business, culture, changes in the nature of marketing, technology and innovation and more.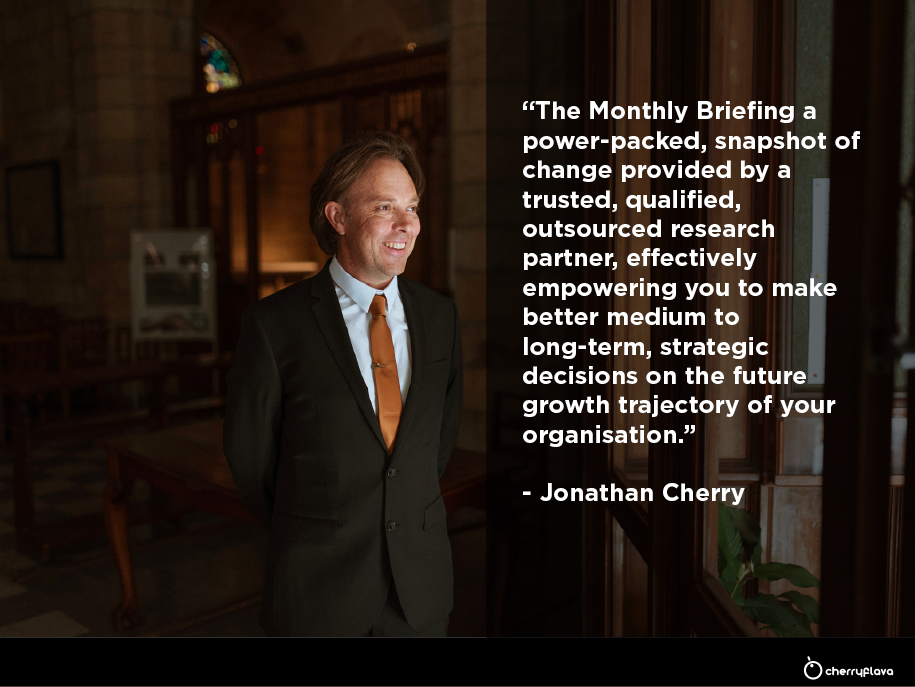 Sign up now!
Sign up now for an extremely cost-effective, 1 year-long discounted package that includes 10 x 1-hour-long presentations, hosted online once a month (we take a break in July & December)‌‌. This subscription can be started at any time throughout the year, simply concluding after 12 months.
...or...try it as a once-off
Full-price, once-off presentations are also available for those who want to 'try-before-you-buy' the 1-year subscription offer.
[BTW if you order the once-off briefing and then decide to subscribe for the year, we'll deduct this cost from your annual subscription.]
Please get in touch with us to order your subscription now.
---
About Cherryflava
Cherryflava Media and Cherryflava.com have been actively researching and publishing business and consumer trends since 2004.
We offer futures research and guidance on the practical application of this knowledge not as side hustle, or as a small sub-division within a much bigger consulting firm; it's the only thing that we do.
We live and breathe futures thinking everyday.
We have hosted panel discussions and given hundreds of keynote presentations, based on our foresight methodology that informs our scanning process and knowledge generation, to blue-chip South African clients that have included:
Famous Brands, Woolworths, Sanlam, Santam, The Western Cape Government, University of Cape Town [UCT], University of the Western Cape, The Association of Risk Managers, Wines of South Africa, Investec.
Our forecasting insights have been featured on major media platforms:
702, eNCA, EWN, CapeTalk, RSG andThe Sunday Times - as well as numerous other independent media channels and podcasts.
Tune into our weekly business innovation and marketing radio feature every Tuesday on CapeTalk with Kieno Kammies.